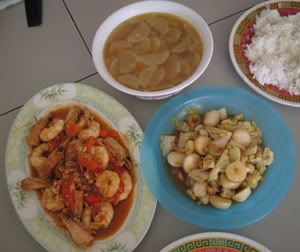 Thanks to my dear friends for their congrats and stuff. Nah, here's some more good food I cook for you all! Haha, just joking lah, this was darling and I's dinner yesterday night. -> **Sorrie Len, still got prawns for you, don't worry!** Anyway, the last few days have been spent going out every time especially to shopping centres and more shopping that's all. A group of us went to Amber last friday to celebrate the aftermath of the release of results: both good and bad. It was bloody pouring that day and the rain never stopped. Darling managed to find a carpark nearby, but by the time we were dashing in and out of the shops for shelters, most of us were wet like anyting but at least we manage to get in without much queueing and waiting. There were Darling, me, Len, Tim, Joewiz, Sheali and Lidwina. The music seemed alright although it's been ages since we have gone clubbing. Barely half the night was gone when we already felt bored and lethargic and it was then we realised clubbin not really for us anymore, especially when you see the younger generations there. Maybe we should go more "mature" places next time... ;)
Saturday was spent at Crown and the bad thing was that we went right after evening mass! Darling's pastor once preached that the middle word for Casino was sin. Oh well, as long as we control ourselves and do it for fun once awhile, I guess it's alright? We didn't win any that night! (".) But at least we got more free parking for our Crown Card, so doesn't matter.. Len went back Gippy with Tim that night so Sunday was a day of "Just u and me" with darling because Joewiz and her brother were at their auntie's house.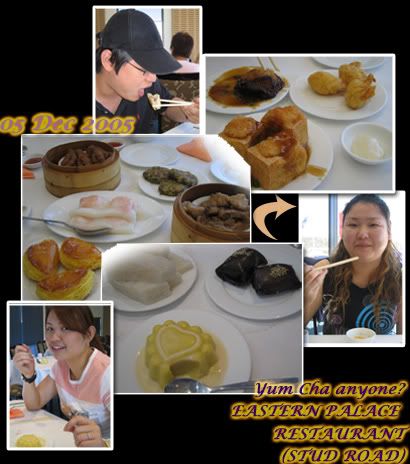 We already made plans the night before that we wanna go IKEA at Richmond. We browse through the showroom with different lovely bedroom / kitchen / toilets displays and start fantasizing how to decorate our place in future. I took some pictures on my phone but was too lazy to download and upload here, I am sure everybody knows about IKEA right? Anyway darling teased me, he said, "You are not a "Desperate Housewife", you are a desperate wannabe wife!" So mean of him, but we decided when the time is right, it will come naturally. :) Today, was just Joewiz, darling and me who went for Yum Cha. We had wanna go a long time and finally found the chance. Len was like *sob sob* Yum Cha? cause she was still at Gippy. That's why I reckon why she's the "pai kuat" among us. When we go out for good food, she's misses out sometimes due to the other "supposingly" other-half. This new place was recommended by Joewiz cause her auntie brought her there. Food was not too bad, but somehow I still like Sharkfin House in Bourke Street. The bill was really "fantastic" too, 3 of us ate till $75 bucks! Joewiz was jokin we all macham rich people, eat one lunch also $25 each! Heehee, I reckon once in awhile, indulgence in good food should be alright lah, considering the number of brain cells we have used while we were studying, take it as a reward!
Today darling and I also finally made use of the free Melbourne Aquarium tickets I won from the Gumbuya Park trip. There are four levels on that seemingly small building with so many variety of sea creatures! Take a look at the photos and it should explain everything...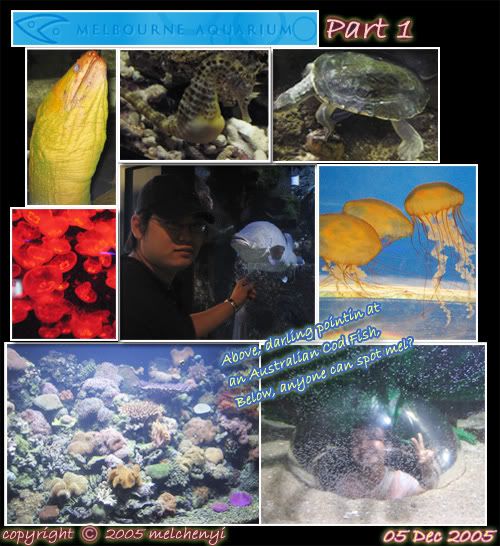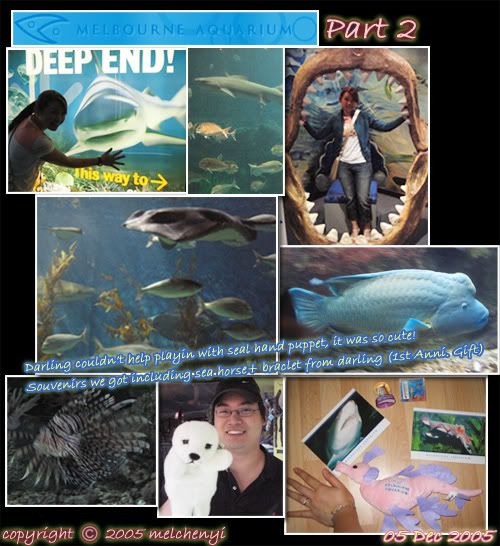 At the last part, there was also a simulator ride, a pretty small and short one where we are supposed to be in a vessel or something and we go through the snow mountains. Hmmn.. pretty out of league with an aquarium but aww it's included in the tickets, which means its free, so we shouldn't expect too much... The exit was to the Gift shop, very smart like all tourist spots, that is to make you buy things! And we did too!