It's be almost a week since getting back from Melbourne and the first few days were spent back home keeping mum and dad company. I haven't had the time to check my blog for some time and when I did, 2 unpleasant comments greeted me. It's been more than a year and people out there still wanna harp on the issue of darling and I. Yes, he may be one of those rare nice guys out there hard to find, but HE'S MINE NOW and will always be(so he says), so GET OVER IT! Somehow or other, people will always find something against you especially when they are PLAIN JEALOUS. So it's some sort of consolation to them by being a bitch, but I won't let it be at my expense. Whatever they say doesn't change anything, don't they ever get it? What's wrong with these FEEBLE THICK-HEADED MORONS?
Anyway back to some updates and happy stuff. Left, you'll see the dishes Joewiz and I cooked the last afternoon the six of us were staying in the clayton house. We all set down like family and ate together, trying to finish the food and to clear the fridge. I think it was on a Friday the 9th of Dec. There were left overs, but it was all good. A night before, the guy tried to charge us the extra rent because darling overstayed a week, but with some of my negotiation, I managed to bribe him into keeping mum and charging us only for 3 days of rental. *grinz*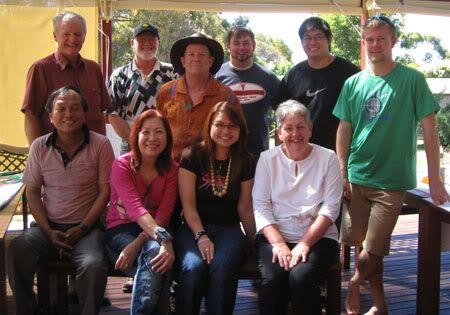 That weekend after we moved out to my uncle's place, darling and I took my parents to visit Helen and Michael back in Gippy on a Sunday. We drove my aunty's car because darling was worried about his car piling on the KMs because he had just serviced it. It was an enjoyable trip and we had alot of good food plus Helen and Michael gave me meaningful prezzies that I will bring with me wherever I go. No corn beef for darling this time, but we had roast chicken and pork. Deserts were Pavlova which Helen wanted mum and dad to try a real aussie delicacy. Lovely people and we feel really fortunate to be able to know them. Will be keeping in touch always...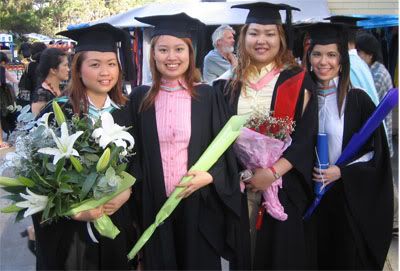 On 13 dec'05, it was finally that time of our lives where we can wear our graduation gowns and receive our testamurs. My ceremony was the later one at 8pm, but lucky I could get my gown earlier to take photos with my chabohs. So, there you go on the left, plus the top blog banner where it would be up for some time. Was really happy that the most important people in my life were able to attend the ceremony and I could graduate with a couple of my besties. Wished Tigger and Kitty were here too, but hey its alrightz.. Took quite alot of photos and sent some of them for developing already. Was supposed to have a last minute coffee together before we all returned to our home countries but after my ceremony it was already too late and my aunty wasn't too happy with people going back late and making noise in her place, so... we just talked on the phone.
Anyway, more shocking news that I myself am still amazed by the decision I made today. I had received an email from my ex lady boss asking me to return to the company to work and never did I expect that the visit today would make me agree to a 3-mth contract to help out because there are really heaps of things to do. Let's just say the pay is not too bad, more that the 1.7k I was getting last time. Plus my ex colleages still made me feel really welcomed. And I really needed to save more money to return to Melbourne. Yeah, Love is a big sacrifice, ever since being with darling, including having to swallow all the shit others give you.
Currently listening to: S.H.E: "Once Upon A Time" and Jay Chou: "November's Chopin", thanks to the Jay CD given to me from my bestest pal S.K. *Huggies*