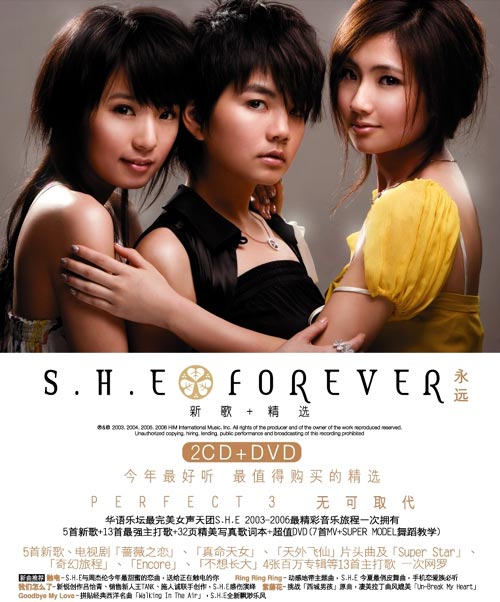 Currently Listening: S.H.E Forever (Thanks to my pal S.K for sending it over from SG). Been hooked on the album's first song "Chu Dian" which means "Electric Shock - Between a couple" for the past few weeks and so I thought I would share it on my blog as well. Anyway, in a flash, another few weeks have passed and it's almost time for my work contract to end and also Joewiz's departure back to M'sia. But, the good news is that my work contract has been extended till further notice, but the bad news that Joewiz is going back still remains. Guess there's not much of a choice, unless a miracle really happens, like winning the lotto or something. ;) And so we've been treasuring every moment with her; having dinner, shopping and partying or just hanging out together. Then we also gave her a photo frame with a photo of us and her included. And the funny thing was that, with the wonders of Photoshop, Len and Jasper managed to make it into the photo as well, even though one was probably walking around somewhere in the house and the other a few thousand kilometres away in Ipoh when the photo was taken. Haha..
Here's the Art Work:
We also celebrated Longy's birthday a couple of days ago. I planned a surprise for him weeks before and he didn't even know it till Friday, his birthday itself. I delibrately made it on the evening of his birthday instead of 12 midnight this time for a change so that he thought there was not gonna be any surprise at all. So when he walked in the house that day and everyone started singing with his lighted birthday cake, he was absolutely shocked. It was all good and I'm glad he like the Polo Ralph Jacket I got for him as well. I had it delivered to my office so he wouldn't have a clue at all. Then at night, we headed to the Student Union for DJ Night. Gee had planned it with ISA in conjunction with darling's birthday.
But the response was so bad cause it was a Friday night and all the locals were back home that only 15-20 odd people turned up. But it's just as well, we had the whole dance floor to ourselves and with close friends around, we managed to enjoy ourselves anyway. Well, back to some other stuff that happened in the last few weeks. Darling and I were down in the city last friday as I had my IELTS test on Sat. It went pretty well except that I was kinda day-dreaming for a few questions during the Listening section, so I had to guess a few answers.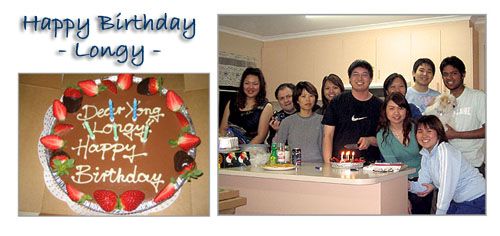 But I'm hoping it turns out okay. The result will be mailed in 2 weeks times. We stayed in a place called Fairfield Guest House that night and it was a pet-friendly place, which was why we booked it, so we could bring Jasper along. He had a fun time running in the small garden outside the room and we had a great time walking in Northland shopping centre:
Click Here for Website
cause it was really huge, almost 2/3 the size of Chadstone and I really recommend a visit there. Imagine, they have Target, K-Mart, Myer, Coles, Safeway, Rebel Sport, Esprit, Lolitta, SUPRE, Sports Girl, Portmans, Country Road etc.. all under one roof! The list of shops just goes on!
Then going back a bit more into the past weeks, the ISA also organized a trip to the Deputy Pro Vice Chancellor's house for a BBQ and Luncheon. So as you can see, some of the snap shots taken above, The house is really big as well and set in the countryside, he owns hectres of farm and land all around as well. Man, the toilet itseld was bigger than any room on Rez. While the rest went for bush walking, darling, gee and I stayed behind to soak in the sun, played with Jasper and chat with his wife. And it was so coincidental that his wife, who was working in some sort of Teacher's Association thingy in the Latrobe Valley also knows my god-ma, Helen. Speaking of which, I'm glad she's coming back this Tuesday, missing her heaps though Michael will only be back in Dec. She and my god-pa Michael had gone for a tour a couple of months ago and they even met up with my parents in S'pore. Alrightz, time to write off now, wanna go take a nap ;p