I think as a person gets older, the harder it becomes to express oneself. Last Thursday was the ISA AGM. Half heartedly, I didn't feel like going that night. It was not only because of the usual cramps that time of the month (yeah I don't care about too much info!), but also because I was sure I'm gonna feel left out. The over-whelming part was having to walk into 1N207 again, where everything brought back so much memories. Memories of my ISA AGM, where my friends cheered me on taking the role of Publications Officer, I almost wanted to break down in tears.
Man I miss you girls so much.
Then it didn't help when someone pissed me off. It's times like this when I wished chaboh loo comes to my aid, then I'm sure the guy would run 10 miles away! The small incident happened when we were lining up for food, the line was moving when Tubbs called me to move forward. Then out of nowhere, this guy walks and bumps into my hand and he drops a piece of food on the floor. I said sorry even though it wasn't my fault. But he stared at me as if I stole his food or something and even muttered that I didn't see him coming and knocked into him! I was so PISSED OFF because tubbs was happily chattering away with someone else, oblivious to what happened!
I muttered back, "Hey you're the one who bumped into me, what's your problem!" The worse part was that he is a GUY! One that is NO GENTLEMEN at all! And worse still, he's Malaysian! What a disgrace to have such a fellow countrymen. I don't know his name, but I do know he's an outcast amongst fellow Singaporeans/Malaysians and only the Chinese accept him. Anyway it was too much for me, I left soon after.
On a happier note, last Friday was the Badminton Club Awards Night. Surina and I came in 1st in the Women's doubles and Wangwei and I came in 2nd for the mix doubles. (I wished it were this good in tennis as well!
Anyway it was all good and all fun, and we had pizzas and KFC for dinner.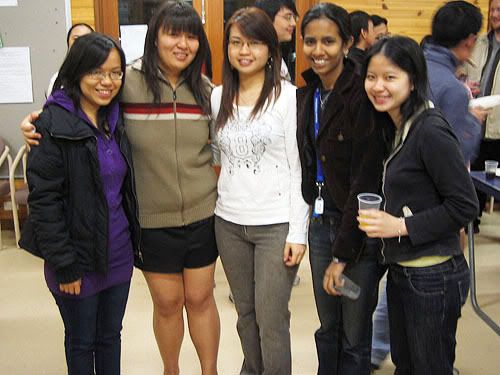 From left: Cynthia, Greenie, Me, Surina and Sue Li.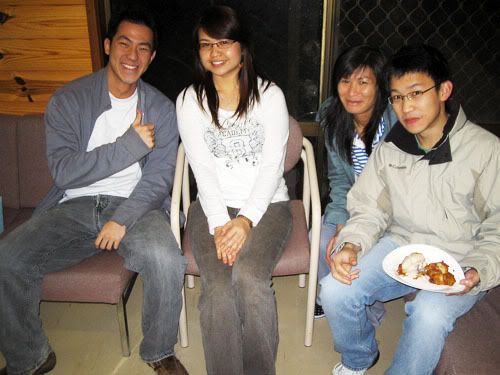 From left: Cute guy Wangwei (Yes for you chabohs to drool also! :P), me, Ellen and Kim
Publicity for Churchill's Cute Eligible Bachelor:
1) He's a 1st Class Honours Degree Holder
2) He's an Engineer and has Ozzy PR
3) He's originally from Penang
Any other personal statistics, drop me a note ok? Hahaha..