Was out all day yesterday doing some last minute stuff like going to the dentist and accompanying my dad to get a new CPU for my home. This would be the last post from my JB home before I leave for Melbourne tom. The 3 day KL trip was quite ok and I bought more bags & knick-knacks rather than clothes. Well, was worrying about the excess baggage weight thus didn't wanna get too much stuff, but no matter what it still didn't help though and I guess I might have to pay for some the excess anyway. Had asked the airport officer friend to help and he said he'll try his best. Darn, how is it no matter how many times you repack, there's still so many things and my bag is still overweight!
Anyway, Happy Belated Valentine's Day to everyone.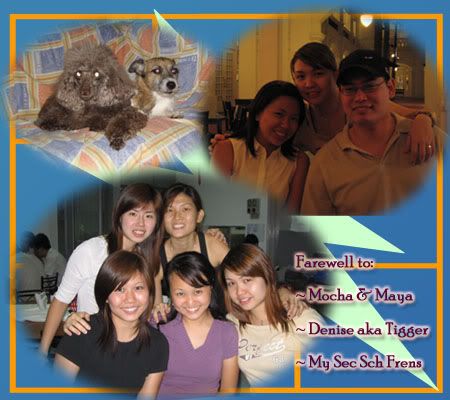 Didn't get to spend vday with Longy cause I was in the car the whole day travelling back from KL to JB. Only got to met him on Tuesday and we had the usual custom of exchanging gifts though we didn't really celebrate. Funny how I used to feel vday is an important day but now it doesn't feel that way anymore. Fish Leong has a song titled "Parting Happily" in which in it there's a verse which sings "When you found the right person, everyday is like valentine's day", which I kinda agree. Speaking of the vday gifts, my tears are gonna roll again. I actually lost the ring that he gave me. It was a Perlini's silver heart shaped ring with a little crystal on it. The stupid careless me put it in the coin compartment of my jeans and I didn't even know when and where I lost it. Blamed it on the stupid gel I was usin for my hair and you could bet I swore never to wear the stupid jeans again. The photo on the left still showed "it" on my finger and now I will never see it again, it was the last of its kind as well.
Guess the loss of the ring was partly my fault cause maybe "the ring" felt that I didn't "love it" much enough. Well I found some private time during dinner last Wed to talk to Tigger about some things and the truth was I told her I was still feeling little unsure about my decision. She told me to look across the road, walk to the middle and let the cars knock some sense into me. Of cause she was joking and asked me not to think so much. As to guilty part about the ring, well I was staring at it the night before I lost it wondering if I should be wearing it at all. And voom, the next day it seemed to just disappear with a reason and made me realise how much it actually meant to me + the person who gave it to me as well. Guess it's like God's warning to making me treasure those I should and I would do just that...
Miss ya too Len, Timmy and of cause my darling Longy... Cya guys soon, like tom!Flight: SQ 217Date: Sun 20/02/2005 Arrival Time: 8.15pm (OZ time) Venue: Melbourne Tullamarine Intl. Airport