Thank God I finally completed the last my assignment one and it felt really great to hand up early somehow, unlike last sem where I had to keep awake for day and night trying to finish them up. You might think it's easy just cause I have 2 modules only for this sem, but not to forget my project which runs for the full year, yep haven't got anything done on it yet. My lecturer's gonna find me soon if I still don't set up the program to run.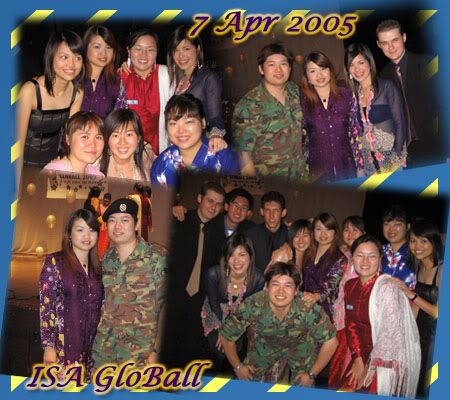 The hightlight of last week was the ISA Globall on Thurs, Apr 7.My mum had sent me two of her Malay costumes for me to choose and I stuck with this one anyway. This year's "Culture Night" as it is more commonly known was quite a success as well though there were little internal conflicts between the association every now and then, but guess they still manage to resovle and made the evening a lovely one. Most of my gang came in their nice costumes and at that time I wish I had my company's korean Hanbok to wear, haha. Not to say I don't like my mum's costume, but the Hanbok would be cool. Anyway we had an enjoyable night except for the fact that we just had to come across the "bitch" a few times during the night. Don't ask me what's all about cause some things are better left unsaid here.
Well continue back tom much happier things-> I was still pretty amazed how Len and I managed to do well in our performance that night. We barely had any practice and we only choreographed the whole steps and moves one night before the event. We didn't concentrate and kept practising as much as we did in Churchill Idol, but I reckon we did a much better job this time. And thanks to our camara man-> Josh for video taping the whole performace for us. Still haven't got the clip from him though. ;p). And also to Tim for playing such a good job as our "Pretty Boy". Guess we felt we did pretty much better than Churchill Idol and finally they could hear my voice because maybe for once I finally got rid of my stage fright. Thanks to darling with his red wine to calm us down and his never ending support though he's always up to his tricks disturbing us while we were practising. Lily and Alvin were so cute that they came up to give us balloons halfway through the song and then came Hemant and his friend who had to put balloons on Timmy's hand as well and he could still keep still all the while... Not bad "ken", not bad.. =)
Anyway this weekend passed pretty fast, probably cause of the "early" hours that we sleep and by the time we get up, half the day's gone. Went down for my Visa appointment last fri and for once it was just darling and me alone because the others didn't wanna make another trip down city again so soon, since we were there only last week. Well, I should have been happy, but I don't know why I was feeling really down and shitty inside. It's the type of bad mood ladies get during that time of the month, but for me, guess it's kinda normal to happen anytime. Maybe that's the reason why we both lost money at Crown this time and thought, yep it's just not our day... I should cheer up a little bit more, I don't know what's bothering me and I felt so bad on Saturday when I snapped at darling and he still got me a pooh bear to cheer me up. We were joking that instead of reducing the soft toys I had, he was adding on to the lot instead.. Well, "bad mood, bad mood please go away..."