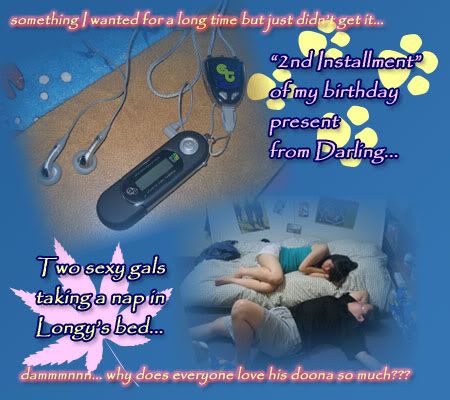 Yet another weekend is here, well every other day seems to be the same for me since I have classes only on Mondays. Finally got the markings done for BIS11, a first year distant learning subject. Working casually for the faculty of IT just to earn some extra bucks and damn now it makes you realise how frustrating the markers can get now that you're a marker too. It's funny how some students answer the questions and it just makes you :sign:. Anyway caught 2 sexy gals scandalous and taking a nap in Longy's room few days ago and hope they don't kill me for taking a secret shot of them snoozing. It's interesting how many people like to laze around and sleep in Longy's room, haha. What they love most is the comfy 'down' doona and it's cooling effects... Hmmn... Anyway just received the 2nd bday present from darling that just arrived on Wednesday. Now I don't need another thumb drive and :cool: music plays with it as well. Thank you Longy, although you never bother to come read my blog anyway...
Well. Days and weeks pass by rather quickly and lately I'm still stressing about my project. Just 2 days ago I was talking to my mum and telling her how silly I am; cause since the main purpose in coming back australia was for someone and a chance to get PR here, I might as well go sign up for a Hairdressing course which is much more of a better and confirmed chance in getting PR and probably cheaper too. That would definitely be much better than going through all this torture of studying and stressing about what's gonna come out for my thesis at the end of the year. It makes you understand how much self-discipline is needed when you have too much free time to allocate to yourself on studying. Anyway this shot on the left is copyrighted by Len, who was doing an assignment for her Photography class. Darn, had many bad hair days since I came back and finally got my hair trimmed and dyed 2 days ago. So much for not rebonding it before I came back and thus now for the wavy hair that's neither straight nor curly.
Messaged Tigger 2 nights ago and promised to email her which I haven't done so yet. She's just as busy as a little bee with her job. But yeah when I tolde her about how "sian" I was here, she most probably understood I was just lazy and told me to stop procrastinating, haha.. Just checked my web tracker last week and found out the best joke was that the most number of people who visited my blog are from Singapore. And you'll probably laugh at the most amusing words they use to search for my blog. You get things like "longy, love mel, lost ring, denise dinner" and much more search phrases only you yourself can think off if you're reading my blog now. No prizes for guessing that yap most of the visitors are from Asia but surprisingly there are others from all around the world too. Hmmn, maybe some people tried to find this new blog address by thinking they can link from my old address cause there were searches from there too. Well, enough of blogging for the meantime, it's time to procrastinate when to start my next assignment.