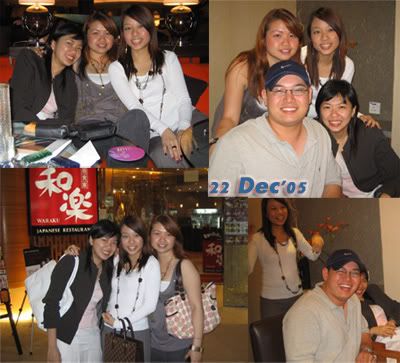 I finally found the mood to sit down, edit some photos I took on outings with friends during the last week of December and writing a new post. This post is probably gonna stay for some time cause when it's a 9am-6pm job, 5 1/2 days a week, all you wanna do on Sundays is to sleepz at home or just laze around. Anyway, after darling and I came back from Melb., we soon met up with Denise and Evon. Missing these girls heaps and was really happy to see them. As usual we had Japanese food cause Tigger always "siao" Jap. food. Then after that, we walk over to Marina Mandarin(i think) for a drink. Hyahz, I always mix up the two hotels with the "Mandarin" in them.. Same shit, different thing lah.. There were lots of friends which I had decided to inform them that I am back only after some time. I guess it's the feeling of wanting to contact only "Those that really mattered". Others I guess, "If I see you, I see you, if I don't then forget it." After all, back in Melbourne I was also forgotten by them, so it doesn't make any difference...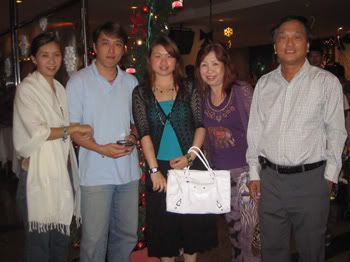 But I finally managed to locate my 2 good friends that I had met on the Korea trip. Lucky they haven't changed their mobile numbers and I found it on my company's in-house system. Christmas this year is also the same as every year. Even the Buffet Dinner is at the same hotel, but it's all good, as long as the food's delicious and it's with my closest family members. My mum commented that for the last two years, it has only been 5 of us. I replied, "Yah, wait for it to be 6 of us(including darling), I think have to wait very long." I should be thankful that at least his parents are slowly accepting the fact that he has a GF already. On New Year's Day, we even went to darling's New Creation Church in Suntec together. Pastor Joseph Prince is really very charming and good-looking. heehee.. *grinz*
Cycling trip at Pulau Ubin with darling, Alvin and his friend, Song. Man I think that day was one where I sweated the most and got the most mosquito bites! All because we forgot to bring the insect repellent... *sign* That "Uncle" Alvin took so long to get used to the bike that we almost laugh our heads off looking at him cycle. Later that night, we had a BBQ at Kal's place. He stays in a rather big semi-D house and it even fitted a pool table inside. Ok lah, I am being kiasu, cause I've never been into someone's house in S'pore, it's usually HDB flats. That's why I always wanna go back my JB home; a comfortable 2-storey house... Oh yah, thank you Kal and "Da-Sao" for sending us back home that night. *smiles*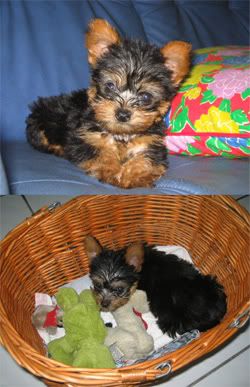 So it's been a week since I went back my ex-company to help. Feeling bored and sianz because must wake up at 7am everyday. Somehow the feeling from the past isn't there anymore. Maybe cause I am working temporary and am thus not involved in meetings anymore. I mean, what's the point right? I'm leaving in 2mths. In the past, CK and I would always be the ones meeting people from MediaCorp, S'pore Press Holdings, the Tourism Board people etc. Oh well, as long as the pay still comes in and my colleagues are still the same warm and friendly ones, it's alrightz. Also, Joewiz, Len and I did have some brief contact about the dates we are returning to Melbourne and the VISAs application thingy. Joewiz and I are pretty much confirmed, but I'm still keeping my hopes up on Len though since we haven't contacted after she went to KL, the place where she "couldn't let go." Honestly, I have been surpressing myself from thinking of Melbourne too much. But I really miss it there, especially the private life darling and I have. Anyway, check out Luvy on the left. He's a cute Yorkshire Terrier puppy who belongs to my mum's friend. He's only about 7 weeks old and I was baby-sitting him during New Year's Eve because my mum and his owner went for Count down Line-dancing party. OmiGod.. I didn't wanna let him go when his owner came for him that night, he's soooo adorable...
P.S: lili.z, tag board removed, but you can still leave comments when u signed in as a blogger. :)