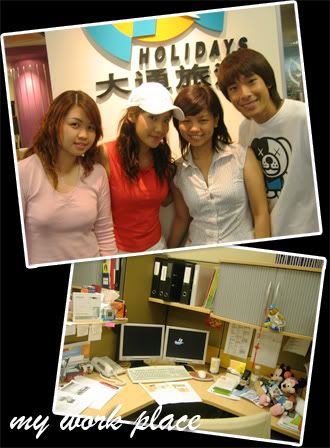 (Edited Post) Yes, I am in office right now and I should be doing my work I know! I've got heaps of stuff to do, but after taking photo with Fiona Xie yesterday(Da one in orange T-shirt, in case you don't know), I just had to write a new post and publish the photos at the same time. She's a MediaCorp actress, currently acting in "Love Concierge" which is on @ 9pm on weekdays. She really has a good figure in real life and quite okay, not too proud or what. I also took a photo with Thomas Ong before when we met in Melbourne, Victoria Market. Previously before he went back to acting in MediaCrop (He's also in Love Concierge), he started supplying free gifts to my company. He carelessly left his wallet on CK's desk before and we got a good laugh at his I.C. Fans of his out there, I also have his Mobile number, but due to confidentiality, it can't be revealed. Sorrie :( He came again to our office yesterday, this time unshaven with a rugged look. ;) Yeah, you bet this is an interesting job if you like meeting people from the Media. I will be leaving in end March, so my company might need another replacement. Do keep a lookout for the careers section then if you are interested! Work back at my ex-company is quite alright actually. Basically as usual, you do what needs to be done and is urgent. This week I'll be working 7 days cause we have a road show to promote our CTC Club Card. It's
Sat/Sun 21-22 Jan @ The Heeren.
Do drop by if anyone's free! ;)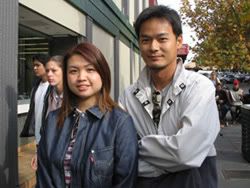 Anyway, some other updates include going out with Tigger and Kitty to have lunch and watch "
The Family Stone
" on Hari Raya Haji. It emphasized much on family gathering and bonding, quite okay, but the scenes happen abit slow though. And also, there's pretty much more emailing and hearing of all kinds of answers regarding my returning to Melbourne to apply for my PR. So much so that I am really sick of it! Not even the authorities can give you definite answers to the questions asked! And
P.S: Sorry again chabohs, I might have to stick to returning Melbourne only in April again cause my degree certification takes 2 months and going back earlier means wasting time and no money.
We really need to have a net chat together one day to decide what are our plans. Keep in touch anyway...
Darling and I have been the same, usual lovey-dovey selves. There has never been a time where I have been more confirmed about who I want to spend the rest of my life with, till now. He's God sent and I thank Him every night during prayers for my giving me my darling Longy. Sorry guys, it's a little mushy I know... And I will definitely miss him very much when he returns to Melbourne first. So now, we are pretty much spending every night together and hoping we can get "Our Life" back together in Melbourne soon. But in the meantime, we've gotta bear with the few weeks physical seperation first. Okiez, enough of the these... ;p
Yesterday was the Monash Pre-Departure briefing in Hilton Hotel Singapore. Darling and I met up with Lyell, Nancy, Joyce, Kal and his GF, Yuanyin to attend it. It was pretty pathetic with only 4 students going to the Gippsland campus and the rest mostly Clayton. Talking to the students really made me miss being an Orientation Helper very much... We did our best to tell them more about Gippy and how to get used to life there. Meeting some people there made me realised that we shouldn't always judge a book by its cover. Some people you just met may seem to be the sweetest and nicest, but they turn out to be back-stabbers with a masquerade. While some may not leave a good first impression with the things they do, but after getting more aquainted with them, you find out that they are actually alright. Haha, this also reminds me of what Tigger teased me before, "Its Juz Mel right? People either love or hate, there's no in-between one!" ;) And I just laughed and say, "Yeah true!"...
P.S: To a dear friend who has to go through some family problems now, Tubbs and I will be praying for you. You know who you are, we will be always waiting for you to return Gippy. *huggies*