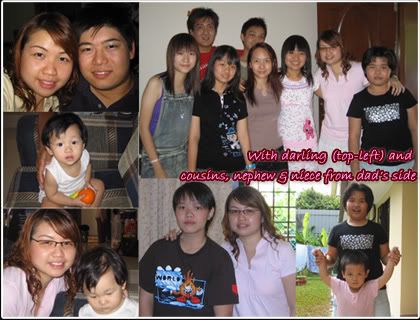 Happy Chinese New Year and Gong Xi Fa Cai Everyone!
For some reason, maybe due to the heavy traffic in the festive season, my ISP has not been working since Monday. It hunged halfway when I was updating this post and I could never connect again! Anyway as usual the Chinese New Year Reunion Luncheon is at my Grandpa's place. For the first time ever, I actually brought my camara to take photos with my cousins from my dad's side. Have never been really closed to them except for one(brown shirt) one because we are more or less the same age, while the others are still in their teens or younger. Those two little kids are my cousins' and my parents have given up hope on nagging at my brother and sis-in-law already. Don't ask why, some people are just "Old At Age and Too Young at Heart". And top left is just a candid shot darling and I took for fun. "See, he has slimmed down quite abit right?" *grinz*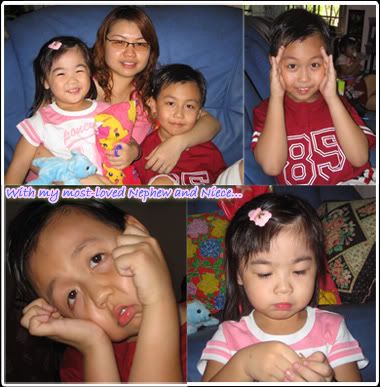 On the first day of CNY, my two most-loved nephew and niece came visiting. My mum and I are closer to them because their grandma(my auntie) was a close sis of my mum's and she was the one who took care of me when I was small. Wished she was still around though. :( She's probably in peace in Heaven. Even though darling and I weren't married yet, we insisted on giving the two of them Ang Paos and we did! My dad was teasing me about it and I said something like, my "future-husband" there already, but just haven't gone through ROM yet what! *heehee* I went back to Singapore on Tuesday and darling took me along to visit his friend who was his ex-army officer. He's married and stays at Punggol. They had a pretty nice 5-bedroom flat and furnished really well. Darling's two other ex-army friends also turned up and one of them, their GF is an SQ stewardess. She was quite nice and when the boys went to play pool, the three of us girls went to walk for abit round Orchard. We didn't manage to find anything that we like though...
Anyway time really flies and in about a week or so, darling's returning to Melbourne. He's insisting that I don't send him off at the airport cause his flight is at 11.55pm and he didn't want to see me cry because he said he that would make him broken-hearted the whole journey. I couldn't help but shed a tear or two already yesterday when he told me. There's so much mixed feelings now cause I wanna work awhile longer in my ex company, but at the same time I really don't know how to cope without darling for 8 weeks! *sob sob*