Well I guess it's time for the long update after all the busy periods are over! Been working like mad again for the last 14 days none stop! Finally it's skiving time in office today. Not much stuff left to do except for some clearing up and saving of the work done. Anyway, my plans to diet were down the drain when all I had surrounding me was "Food! Food! and Glorious Food!"
Lunch Treat by our ladyboss again for CK gege's birthday (10-mar)
Had dinner with my pal the other day. We decided to try out the Korean restaurant opposite my office. I can't really remember the name though, but it's mend by real Koreans cause they actually speak the language in there. It was the first time my pal tried Korean food and so I explained to him some of the dishes based on my past experiences and the Korea Trip. Love the mini snacks provide for all Korean meals, absolutely tasty and best to appease your stomach while waiting for the main course. The food was good, comparable to those in Korea actually. Miss my Bulgogi (Spicy Beef on Hotplate) cause I didn't have it for a long time.
Then I also finally met up with my 2 long-lost girl friends I met on the Korea trip 2 years ago. I managed to get their contacts from the company database since my old mobile phone came crashing down on me last year! And the worst thing was that I didn't even have their emails that time! So lucky they didn't change their mobile number! These girls ah, always "paiseh" to go out for dinner with them because they always offer to pay, keep saying it's their farewell treat or something. They are really such nice girls to be with and even though we don't meet up very often, there's a sense of warmth and the feeling of being welcomed when we're together. We can talk about anything under the sun. Over the 2 to 3 years, I've learned that good friends are God sent and you don't need to know friends for years before they become your good friends. Some people will just NEVER become your good friends even though you know them for a long time and treated them like one. It's like shoes that you think look good on your feet at first, then after awhile you realised that they actually give you blisters. They will always be their "threesome". And they painstakingly say they are not like that? Are they just really ignorant or just really pretencious using "You are not here in S'pore mah" as their excuse? I don't know and I don't care. That's why I couldn't even be bothered asking them if they want to meet up or not. But anyway, that's another story. ;) Cause I've found true friends that walk beside me and not make me walk behind them. :)
Also met my Pooh-Gang! Oops, I don't think they know I call them that, but never mind heehee! We had dinner at my one of my favourite places: Marche! Yup, I didn't miss my Movenpick Maple Walnut ice-cream and those sweet girls sang me a pre-birthday song with a slice of Tiramisu Cake in front of me! And then they force me to eat the cake all by myself, and don't wanna take any at all. *playful* But still love you all. *muaks* ;p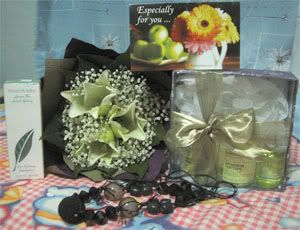 Anyway, this year's birthday (23 Mar) celebrations was kinda like spreaded out into different days with the meeting up of friends. It's like God knows I'll be spending my birthday without darling around this year and He sent so many friends to send me their well-wishes, SMSes, e-cards, prezzies etc. I also glad though that I could spend my birthday this year with my parents. Though I was working that day, my tour manager gave me time-off in the morning to have breakfast with them first before I went to work. Mum and My cousin-in-law bought me a White-Gold cross and Escada perfume respectively. Then I got gifts from my tour manager, tigger and kity, plus hubby as well.
Thank you!
Blur blur sotong of a darling, he couldn't keep his excitement again as usual and told me he had ordered flowers to be delivered to my brother's place. I was like kinda working late that night and I reached home just in time to see the delivery guy knocking on the door. Hope he didn't wait very long thought. :x *oops* ~Elizabeth Arden perfume and white lilies from darling. *muaks* Love you heaps!
Thank you
to
my chabohs + lily as well for the e-cards and the SMSs. They really made my day too. For some reason, this year's inbox and friendster had lotsa birthday wishes!
Thanks again
all of you, you know who you are! *hugz*
And the 2-day event of the month, the NATAS Travel Fair which everyone in the office was so busy preparing for. It's a time where all the travel agents in Singapore come together and showcase their packages/tours/air tickets for sale. It was from 24mar-26mar and we practically worked from 10am-9pm everynight! But it was all good! And lotsa fun too, as you can see from the pictures. I took heaps more, but just uploaded some cause there is really too much to show here. Till the next update, which will be quite long I guess! Enjoy this first! :)