My first post back in Gippy... I'm really growing spider webs outta all the boredom here. Erm, cocoons anyone? Anyway, blame it on the jetlag or something, I've been sleeping most of the time the pass one week. Yeah, the cold rainy weather especially helps make the bed even more comfortable and irresistable... But I decided to stop being a *piggy* for today and change the design of my blog. It doesn't look like it's got much changes, but I actually spent the whole day on it. Or.. erm maybe I was on MSN too for abit.. *grinz* ('',)
And before I continue, some pictures taken when I was still back in s'pore...

Had a post birthday celebration with my secondary school friends when we finally met up after a couple of them managed to pull some time away from their busy schedule. I've got another bouquet of flowers for belated prezzie and Crystal Jade "Xiao Long Bao" Restaurant was pretty nice to offer me a small size complimentary cake. We ate heartily with the delicious "Zha Jiang Mian", "Xiao Long Baos", Fried Red Bean dessert etc; one of my many indulgences before I came back to Melbourne. *yummy*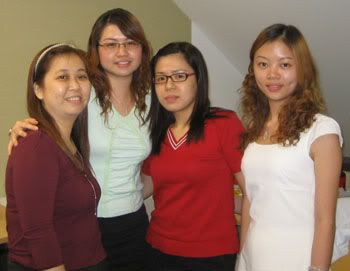 On the last day of work, I also went round saying good bye to my colleages at the office. It wasn't easy and I really felt a tinge of sadness even though I've only known some of them like a couple of months. They were so friendly and we clicked pretty well. Some of the others include a couple of shots I took in the previous post at the NATAS Travel Fair. Some of them were saying they barely had the chance to go out have lunch or something with me, to get to know each other better and I was already leaving. Honestly, I was really having mixed feelings that last few days before coming back Melbourne and I really had the thought of maybe applying offshore PR or something instead. Plus, I absolutely miss my parents so much, especially my mum. We would go for Sat/Sun masses together in church and since I'm not around now, she has to go to church alone. *sad* :( But I made sure I listen to her and I did went for confession back here last Sat. Father asked me to pray for blessings for my family this easter and also he'll pray for me to find a job soon. More Easter ceremonies coming this week and I'm looking forward to it... Anyway, I couldn't quite describe the feeling when I first saw darling at the airport. He seemed so familiar yet so distant. And I finally understood the feeling when couples seperate for a couple of months or more in different countries and then meet again. But the familiarity soon got back fast enough as all the past memories started flooding back in the car. *contented grinz*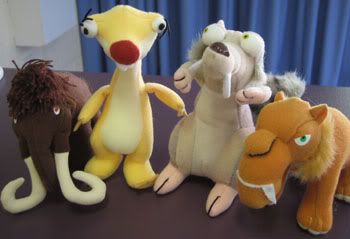 It felt great to be able to do our usual stuff together again. We had our long talks, hugs, and chilling out together, plus dinner with friends and even his housemates this sem, who were fine people. We dreamt of our 21 million tatts lotto together and missed it by just a number for a $30 prize... haha.. We went for movies and shopping as well, but always not forgetting to call on friends to come along as well. :) Ice Age was an absolutely funny movie. The silly squirrel still never stops at anyting to get his acorn. I shall not say too much, go watch the movie okay? Sheali reminded me to get the plushies which came with any Popcorn & Drinks combos purchased. Lucky for me, Jess and Chun Yau were not into toys, so I managed to get the whole set. Well of course apart from the fun, I went for my medical check up and x-ray as well. Getting ready all the stuff to submit my PR application. Have been praying every night things will turn out well, and so has my dear mum & dad who worries for me all the time. *muaks* Love you all loads...
P.S: One of my chabohs looloo coming back, make sure Len fits in your suitcase okie.. heee.. and *oops* I promise hubby to help him with his assignments, I better start soon! :x