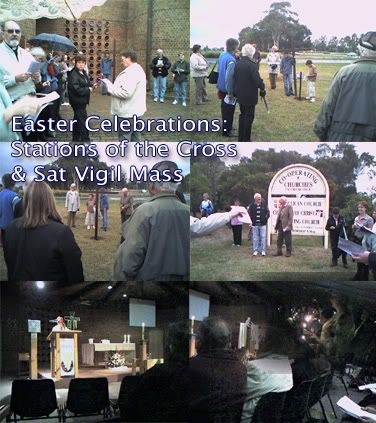 Happy Belated Easter everyone! It's the Easter hols this week... I didn't do much important stuff except shopping, watching movies/DVDs and getting hooked on my new PC game that darling bought for me last week. For those who have lab blocks during this easter hols, "Hey you have my consolation, hang in there.." Darling will be having his as well either next sem or his last sem, so we're not gloating over other people's misfortune right now. Then we had the Easter celebrations that came and went pretty fast. Not so much about standing and kneeling for the Stations of the Cross where it was like back in Malaysia, but we actually had people carrying the cross and walking to different places here. Easter vigil was same as last year; We had candles lighted at certains times of the Mass during different bible readings. I'm glad I still have Audrey and Liddie to go to church with me back here and I'm sure they are too! "Right? No need to walk anymore.." *winkz* Anyway I guess it was a best friend's email that prompt me to update my blog today. "Yes babes(Len), I'm missing you heaps! Your long email is very touching.. *sniff* Come back soon!" We are shoppaholic "fanatics" who share the same taste and so we get a different colour of the same blouse sometimes. Without her here, no one's been watching horror movies with me as well and worse of all, for the first time she ain't gonna sing with me for uni events. :( Yeah she might be a confusing woman at times, but no woman deserves to be lied to. Although I'm not exactly sure about certain events happening around here, I just feel that when something is over, it should be forgotten cause it ain't worth missing at all. New friends will never replace old pals/chabohs/pooh-gang just like there is only one "-mel-" and any new person with similar sounding names shouldn't use the same nick.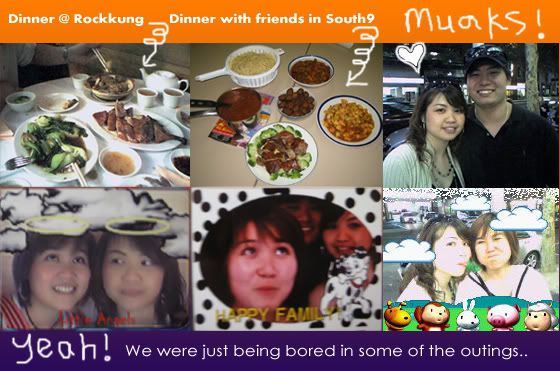 Alrightz, enough of the "preaching" round here. Some of the updates for the week besides attending church included going down with the current ISA committee to Caulfield for their ISO meeting, finally submitting my PR application (yippee!) and down city on Tuesday for more shopping of clothes, Crown and stocking up on the asian groceries. For the first time, we actually brought Sheali to Rock Kung, the famous Hong Kong restaurant in Glen Waverly known for it's Roast Pork and Duck. *mmmnnn yummy* That girl really lurrves her rice! :p
Some other micellaneous topics: The publication of the 2nd issue of the ISA Nexus Newsletter. Anya did a good job, what with the colour printing and stuff especially for Culture Night; though I still like the first original Nexus logo. But what to do? Sheali's laptop "couldn't handle" the
Macromedia Freehand
software after she took over from me, so the logo kinda got "chak-chak" as the newsletters went by. But it's all good, at least the name still stayed. *smile* Then there was darling being pissed off by having aquaintences waking him up in the morning thinking he's a Taxi Driver or some sort. He was like, "What the hell? I don't even know her!" Never piss the man when he's still in bed. : I mean he's fine with friends or his housemates asking him early before hand to pick them up or whatsoever, but absolutely not for other people who come knocking on your doors only when they need help. *
quizzical
* I mean, "what's going on?" (#.#) And when in city on Tuesday, we weren't exactly happy when some Public Transport officers came on the tram and book us for not validating our MET card. I mean we haven't got the chance to do so and now we are innocently gonna get a fine for something we didn't do wrong, it's not fair! Ain't gonna write the details here, too pissed about it already. *pout* So this isn't exactly a good week yeah? Although darling and I did win $23.40 in the tattslotto last Saturday...