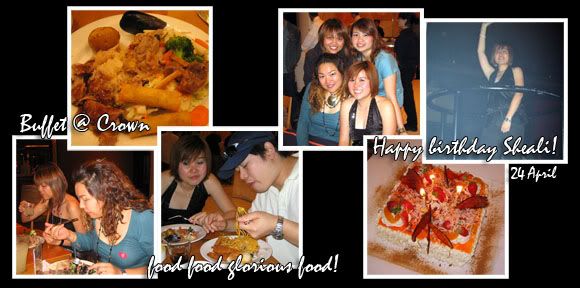 Life's been pretty much mundane and repetitive lately and this is probably the reason for the little updates. Let's rewind back a couple of weeks ago to Sheali's birthday and the Crown trip on 23rd April. The food and desserts were awesome as usual and Gee planned a birthday cake surprised for Sheali from the staff at Crown Buffet. The cake looked and tasted good, but everyone was definitely stuffed from all the food that in the end, it was given to the waiters and staff instead. After when the 4 hour curfew to remain in Crown premises were over, we headed to Club Odean for some quick drinks and clubbing - the warm up before the drinking party back home. And thus, we also caught the birthday girl in act dancing on the podium and flaunting her sexy black outfit that night. Lily and I tried to join her as well, but the bouncer said only one person was allowed at a time. So we left the birthday girl "performing" up there. Back in South 9 that night, we played usual drinking games and for the first time ever, we found out the meaning of "what happens when Sheali gets wasted". And no, I shan't go into details...
HAPPY BIRTHDAY TO MY DEAR GIRL, EVON AS WELL! ON 4TH MAY!
Well I also finally met up with my God-ma and pa, Helen and Michael. Missing them heaps! Darling and I brought sheali, audrey and liddie to their house for a cuppa one night after church and Sheali noticed that their son Phillip was cute, haha. We have been wanting to arrange for a proper dinner, which I hope, will be real soon.
The rest of the weeks passed by with the submitting of job applications, supposingly window shopping that didn't really work, baking and baking of pastries and tarts by Joewiz. It's really sucha big stress looking for a job round here, cause they are so limited. And no matter how good an application letter or resume is written, I could only picture the employer putting aside the papers after reading the "on bridging Visa awaiting Australian PR" part. Very few companies want to go through the hassles of work visas and stuff, guess they'd rather just hired an aussie. And so I think it's about time I stop lazing around and start selling my stuff on ebay. I just have to get it started, yeah.. I'm getting there...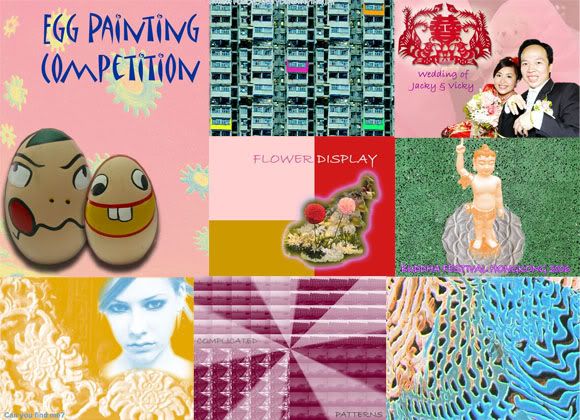 Well, meantime I continued with my hobby of Photoshop and thought I would make use of this skill of mine to help Henrie in her assignment which she needed to finish in that tight deadline; cause she just got back from Hong Kong and they pushed forward the submission date. So, enjoy the graffiti, but remember, its copyrighted! By the both of us.. haha..