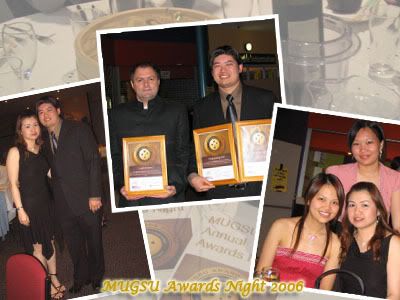 I just recovered a few days ago from food poisoning, followed by a damn fever and headache. It was one of those bad times when I actually had to take 2 days MC instead of 1. Damn bad luck especially it was just 1 day after I had signed my contract for Permanent Staff. Oh well, even though I was watching TV by noon on the second day, it was all good; finally some long rest and definitely a whole lot of sleep, sleep and more sleep during that time. Anyway let's get back to the important stuff. The Uni had the MUGSU Awards Night on 13 Oct and darling received 2 awards: Award of Appreciation for ISA President 2006 and Outstanding Volunteer for Education Collective 2006. I'm proud of him and we chuckled that we need our "Study" in the house next time for our Certificates and Awards Collection. Waha.. ;) Other than that, life goes on, work is usual and boring, nothing exciting yet although I would really hope my boss decides to take up the Vehicle Hire business. Then I'll be able to arrange the Hummers and Cadillac Limousines for Weddings, Debs and Events. OMG that would be so exciting! I'm still waiting. :/
Anyway, I should think its time I actually mention what
my company
is doing. We import vehicles from U.S., convert them to right-hand drive, and sell them. Yes, I mean those fine looking Hummer/GMC/Cadillac/Chevrolets that make guys go swooning. We also deal with 5th Wheelers or Caravans in simple terms, as well as speedboats. So I'm actually 1 of the only 3 ladies working there, which isn't too surprising.
Oh yeah, not to forget another latest buy -> electronic gadget -> Palm Z22. I was initially looking for a notebook on ebay. Yes, those that you write with a pen. But then the notebook search brought me to a Palm for some reason, so I took that as a hint, (ok NO maybe that was my excuse) and wanted to bid on one. But I couldn't have the patience to wait, so after work I went straight to Dick Smith to get one instead. Awesome little gadget with big functions all in one, and refinely designed externally for ladies. :) Ima enjoying the free e-books that come along with it, as well as the games and schedule planning, tasks, memo, expense budgeting functions etc that come with it.
Anyway last week, officially I only worked 2 days, cause on Friday I had arranged to take leave earlier to go down to DIMIA, Dandenong with darling. I wanted to get my VISA sticker for my PR and darling wanted to get his work visa. The joy of getting my PR actually hit in a little as I stared at the VISA with glee. -> Enter and remain as Resident ->No Conditions attached. And I gave darling a smirk look as I told him, "Man this is sooo cool! Next time when I fly back Melbourne and fill in the Customs Declaration form, I just need to tick the box "Resident Return"! Woohoo! :P And then I also wanna thank darling for shopping with me the whole day. Honestly I was buying like there was no tomorrow and the retail therapy helped overcome my sickness pretty quickly. I pretty much covered everything from tip to toe, *oopps* I forgot to include the hairband and the belt in the photo. Well I got the Clinique Tanning lotion cause it won the New Women's Beauty Awards and I really wanna get some tan so that my skin would not be so fair and I would look less chubby! heee.. Hope it works! The Bloom Body Shimmer smells fantastic by the way!