Okay, so I finally found time to actually crop and edit the photos of the shopping I've done in December itself. (Not that I was busy with work or anything, fine I was just lazy! ;p).
Anyway Leonard (Pics Previous Post) asked me if I was into LV, Gucci and those branded stuff when we met up I bluntly told him and anyone else who'd ask; NO, I'm not into those stuff. Maybe when I become a Tai-Tai in future, but not at the moment.
I honestly can't bring myself to splurge a few thousand on just 1 SINGLE ITEM. If you happen to see me using anything like that or whatsoever, it's probably a gift or some Top Grade High Quality Fake. Hurhur, after all who can tell between genuine and fake unless you squint closely right? Yeah, call me cheapskate or what, I'm just practical I guess. I would rather spend a few thousand on heaps and heaps of stuff, just like the heaps of pretty stuff I got below. :) Enjoy!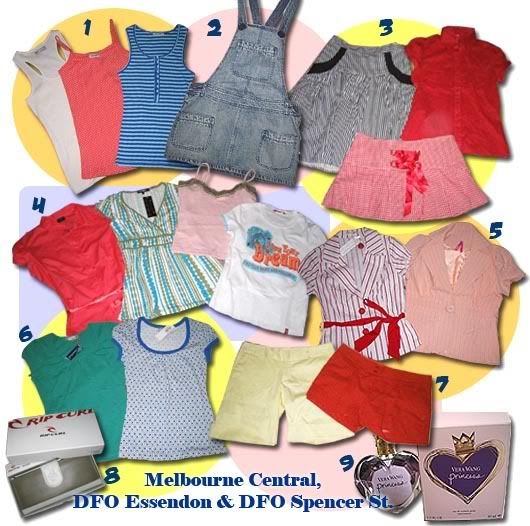 1) 2 Sleeveless Tops from Jay Jays : AUD$25
2) Overalls from "Bits & Pieces" (Can't quite Rem.) Target : AUD$49
3) 2 Skirts and 1 Blouse from Dotti (SALE): Around AUD$55
4) Tops from Glasgow and Esprit: Price can't Rem.
5) Top from underground shop in Melbourne Central and Dotti: Around AUD$40+
6) 2 Tops from Jeans West: AUD$30
7) Shorts and Above Knee Pants from Glasgow: $40
8) Wallet from Rip Curl: $35
9) Vera Wang Princess Perfume (50 ml): AUD$76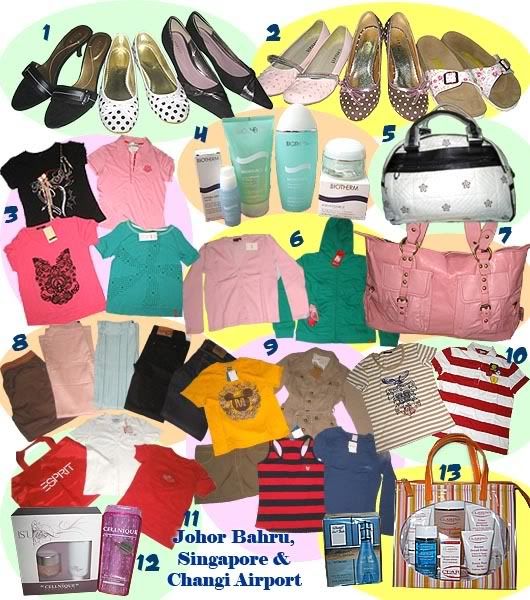 1) Slipper and Shoes from Sachs and Vincci: Around RM$140
2) More Shoes from Mixit, Vincci and Neckerman: Around RM$150
3) 4 Tops from Dolly, Chic Avenue and Googles: Around RM$120
4) Biotherm Cleanser, Toner, Moisturizer and Eye Cream: RM$260
5) Handbag from Giamax: RM$49
6) Cardigan and Jacket from Googles: Around RM$80
7) Handbag from Jap-Alike brand Momoe: RM$63
8) Pants and Jeans from Apple Mint and Dolly: Around RM$160
9) 3 Mickey Mouse Tops, 1 American Athletics Skirt, Googles Jacket: $180
10) Bossini T-shirts, one with Imprints of Doha Games 2006: SGD$45
11) Esprit Tops and Bag: SGD$80
12) Cellnique Pro Sebum Gel (Ya, read from XiaXue's Blog la) + Mask: SGD$85
(Airport also cannot escape from shopping! How to when its Duty Free!)
13) Davidoff Cool Water for Women: 2 (30 ml) bottles: SGD$30 and Clarins Travel Skin Care Regime: Cleanser, Toner, Moisturizer, Beauty Balm and Lip Balm: SGD$55
Alrighty, enjoy the Fashion and Beauty Items for the time being cause I have put a restriction on myself not to shop for 3 months! Except pay for Food, Groceries and Fuel. *Fingers crossed* Don't know how long I can keep to that! :X