Len the "paikuat" keeps bugging me to update, but honestly I have nothing to update! I've been bumming around during the long weekend (Monday was off day due to the Queen's birthday) and all I did was grocery shoppin, listing my items for sale online, gaming and more gaming, plus a bit of reading. Still, I decided to find something to update and also did my
Shoppaholic
blog, but I didn't put my Ipod shuffle there, I wrote about it
here
, so if you're interested by all means, click.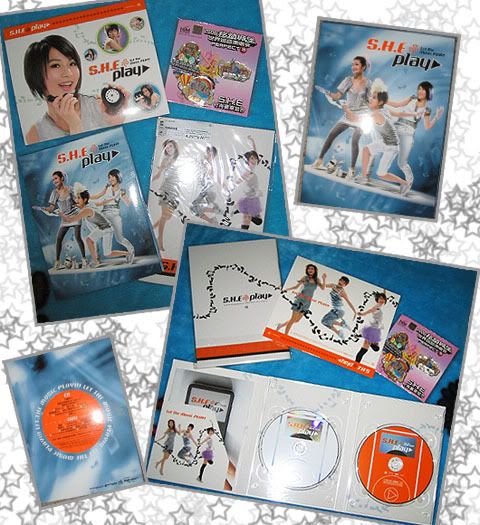 And sooo, my long awaited S.H.E "Play" album, photobook and concert badges are finally here. I've gotta admit the delivery took some time, but YesAsia does have a lot of fascinating items. You can get CDs, DVDs, Games and Books in Mandarin, Korean and Japanese and you can even get items in it's original versions from the countries they hail from. They deliver free worldwide, provided you buy over US$30. So the only down part is that prices are in USD, thus it's a little pinch to the skin when you shop there. But there's no harm in just taking a look.
Anyway, I also decided to upload some recent photos of Jasper. It's been sometime since our "baobei" has been out of the limelight. He hasn't had any grooming since last year and we do the nail-cutting ourselves. The poor guy has his eyes covered whenever his fur grows too long. And Tubbs decided to use him to de-stress(how mean I know), he grab abit of fur from both sides of the ears and trim it and so I decided to trim his whole body as well, though he looks abit "gong" now, but still cute right? :D
So the next few weeks will continue to be mundane for me. Ying's back in S'pore and Tubbs is also flying back this weekend. He promised me to be back by Sat 1 Jul so that we can make it for the Wedding Fair in Melbourne. Eileen, Dom and the others are going on a trip to Brisbane/Gold Coast, so it's just gonna be me and Jasper most of the time. Ah well, it isn't that bad, just more time for myself and Jasper. Though now, I'm doing some research on Mornington Peninsula, where the Hot Springs I was talking about in my last post, is. I requested a brochure from them and have yet to look through. Now that it's confirmed about the date Tubbs will be back, I can go ahead and plan the trip. It should be in early July, and Dom, Ying, Eileen you 3 are welcome to come along. Just let me know if you're interested okay? Till next time... tata..