Tubbs is back and I'ma soo happy and glad because not only did I miss him (twas only 2 weeks I know), but situations are much easier to handle with him around. ;) So darling and I went to the 2007 Melbourne Bride Wedding Expo last Sat. I'd say I wasn't too impressed at all since I have been to exhibitions on a larger scale. I'd thought there would be few hundred of exhibitors, but there were only about 120 of them. As you can see, you can have any type of wedding car you want (if you can afford it.) Let's just say a limousine costs around AUD$800 - $1000 per hour.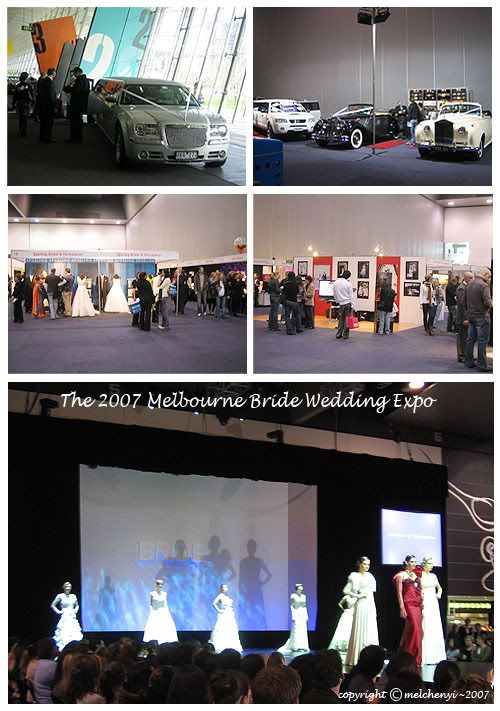 Then of course there were bridal boutiques displaying their gowns, hotels, convention centre executives trying to persuade couples to host their wedding at their venues, wedding decorations and event stands, photographt stands, souvenir stands, etc. All in all, I'd say they had exhibitors to cater for every wedding need, but just less variety of 'em thats all. There were also Fashion catwalk parades of gowns, jewellery and shoes and it was a really good experience since it's the first time we've been to a live one. Camaras weren't allowed, but I manage to get just one shot. :P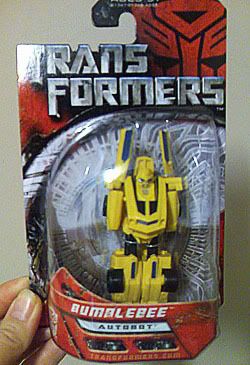 We also went to watch Transformers on Sunday with Eileen, Jason, Ammie, Dom, Alex(H), Byron, Sueli and her BF. Yeap it was a group outing alright, but lucky this time it was a unanimous vote to watch the same movie. And why? Because it's Transformers and hey! who can resist not watching it right? :P The movie plot was only alright, but I guess all we wanted to see was mostly the action and the gist of it. It was a little disappointing though that they changed the vehicles of the robots from the original cartoon. Like Bumble Bee became a Chevrolet Camaro instead of a Volks Wagon. And Optimus Prime was a different Truck altogether too.
But it was still all good. As long as it's Transformers, anything will do. We were speculating that there's gonna be a part 2. Well, guess I've been influenced too much by my brother when I was small. I used to play with all the Transformers Action Figures that he had. And I've been hooked on them ever since. Jason and I have been mad lately, and have been browsing through Transformer stuff during work time. (ssssshhhhhh...) I lurrve Bumble Bee most.
I also found out that Kmart, Target, Big W and Toy'R'Us are selling the Transformer toys. And we headed to Kmart straight after work yesterday. But I couldn't find anything I really like and thought that we should check out the other stores as well to see if they have a different variety. But nevertheless, I couldn't resist getting this small Bumble Bee first, for a cheap price of $5.99.
And also, darling bought my Nintendo DS R4 Memory card for me from Singapore! It was a better bargain there since the bundle cost SGD$75 together with the MicroSD card, but cost around AUD$90 here. So it's noo more spending money on expensive games for my DS! And even better, I can have around 18 games on my DS all at once. *Yippie* :D And darling also got me the
CKIn2U
perfume as a gift. Apparantly it's the newest popular hit in town. I love the smell, it smells of fruits with a zest of lemons. Go try it out! Tata for now...