Thanks to all who cared, we're pretty much settled on the move down to city. Just a few knick knacks and there left in Gippy, which we will endeavour to take the next time we visit. :P The first week of work went by quickly and I must say I really feel so blessed to get this job. It has a great working environment, you get training and courses to attend, the benefits are awesome and most of all, I can finally concentrate on my area of expertise and what I like doing; which is purely web design. Anyway, here's some snapshot of my workplace: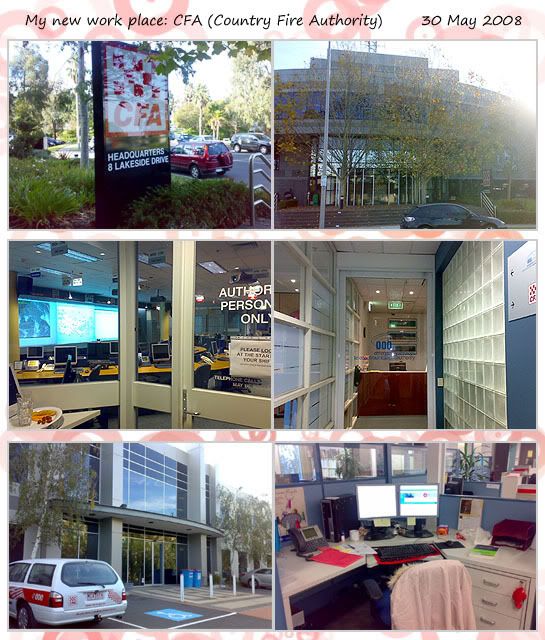 The first day was really overwhelming because I had so much to learn and the tour around the two buildings itself took about one and a half hours and I was introduced to so many people that I probably can't remember half of who I have met. It's so cool to walk into the SECC (State Emergency Control Centre), the room looks exactly like the scene from movies where they have the U.S Security of Defence giving commands in the control centre during am emergency. Also the 000 centre is also situated in the same building, so that's where all the 000 calls go to. :P My department is in the second building, which is on the right of the main building and there's also a snap of my little workplace. My colleague also took me to the fire stations in other regions for a visit and it was all truly an information overload week, but it was all good.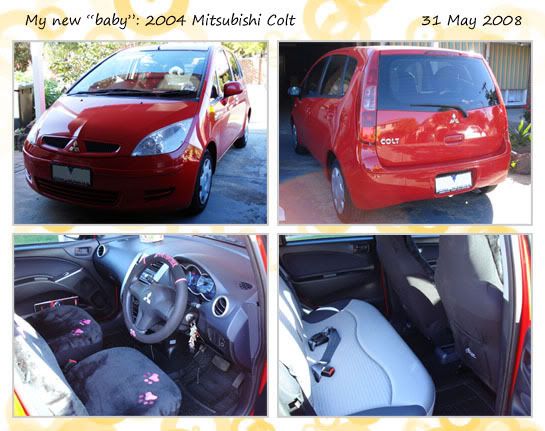 Then I'd also like to introduce my new "baby" to our family (apart from Jasper). It's nothing big or posh to be proud about, but still it's my first car which I financed from my own hard earned money, so it's just something I'm just really happy about. The mitsubishi colt is similar to the Honda Jazz, but it's just less common and I certainly like the red colour! It's much more secure buying from a dealer as you can a mind of peace as compared to private sellers. As you can see, I can finally "doll up" my own car with all the cutie girlie stuff. *hint hint* chaboh loo, time to get me that devil mirror cover already. heehee.. :D And to top it off, thanks to darling who bought me a GPS to go with it, now I know I won't get lost.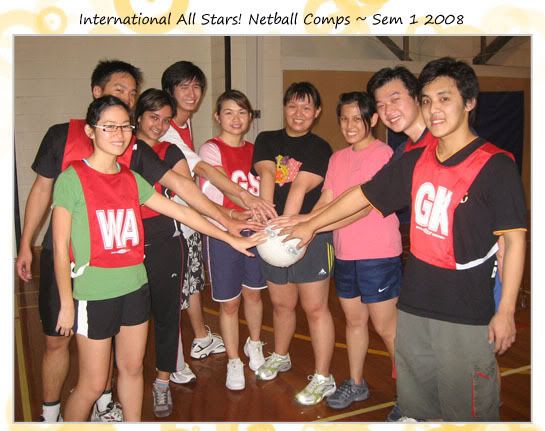 And so everything sort of ended about the same time, my tennis comps ended around mid may and so did the netball comps. Though we didn't win any game at all, we're still proud of ourselves cause we did our best and I'd say we're one of the more united teams who have the same players playing for most of the comps. *Alright we didn't win cause we needed more practice and the ang mohs are very tall okay!" :P I'm pretty glad for gaining some new friends throughout that period too and now it's time to find a new tennis club around my area to continue my tennis and hopefully a netball team to join as well?