We celebrated my mum's birthday just a couple of weeks ago at Fortnums restaurant in the Dandenong Ranges. We initially wanted to bring her to Miss Marple's tea room, the usual place with delicious scones and dessert, but they don't take bookings. And not wanting to risk having having a long time on that nice sunny day, I guess second best was good enough. :p (P.S: Ang Mos like to drive up there to have tea on sunny days and that day was just beautiful...)
Anyway Fortnums served food similar to Miss Marples, apparently their scones were not too bad as well. But we were so filled with the main courses and surprised birthday cake for mum that we didn't bother trying out the desserts. Boy it was hard to find parking and it took quite awhile for the food to come too. But at least everyone was comfortable in the air-conditioned area.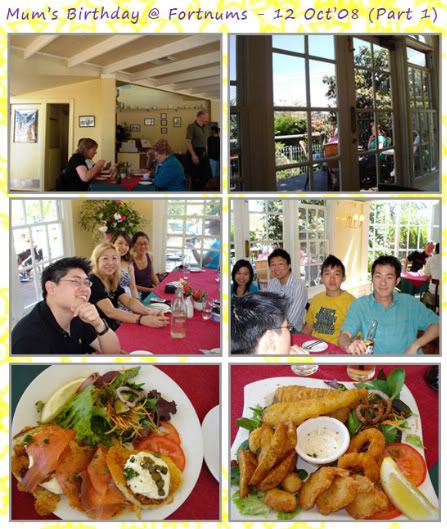 Some shots of the place, the people who made mum's day and also the yummy food. Let's see what was on the menu; Seafood platter with fish, scallops, prawns, squid and wedges, Salmon salad, and others not pictured include Steam barramundi with vegetables, Veal Pot pie and Quiche... Let's say the food was good, but it kinda made you sick if you ate too much of it because of the grease I suppose.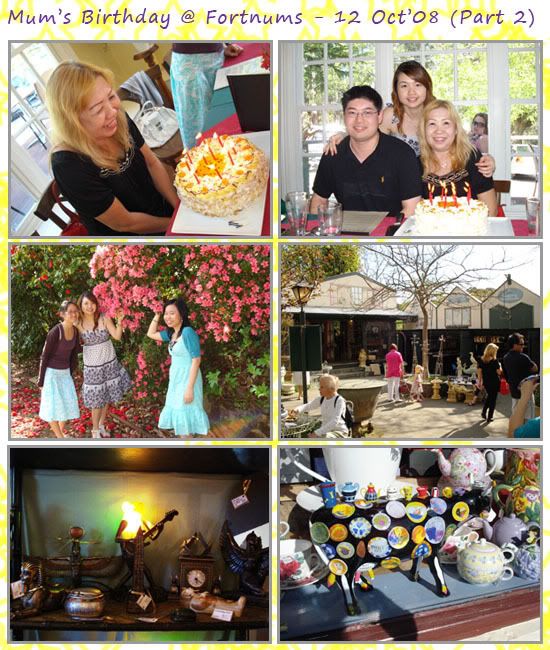 Thanks to Ammie and weichao for buying the cake for my mum, I managed to sneak it pass her and got the waitress to keep it for us during the meal. Then afterwards, we even took the dessert menu and pretended that we want to order when the waitress brought the cake out to surprise her. After lunch, we took a walk at the pretty little garden at the back of the restaurants with a wonderful array of flowers in bloom and of course there was more cam-whoring as we walked down the road along the quaint little shops.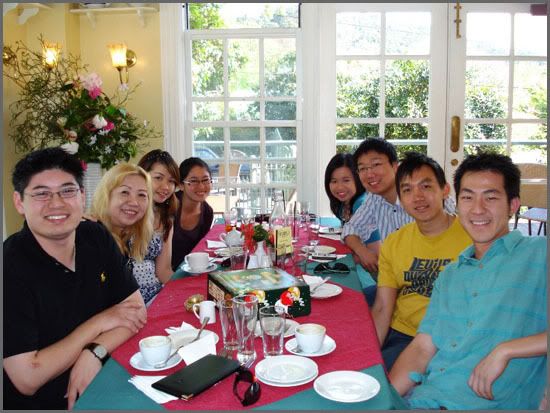 Bigger group shot - Thanks to those who camed along to join in Mum's 60th celebration. :) A person turns 60 yrs only once in a life time so I wanted to make it a memorable birthday for her. If she was back in Malaysia, her line-dancing friends would probably bring her out for a huge party. :p They were pestering her for photos after the celebration and I think I should get them resized for her soon...

Anyway work's usual, getting a bit into the busy period now at CFA now that summer is approaching. Been busy lately doing the new website layout and getting it ready to be launched in end november. Till the next time then...