Boy am I still exhausted from the trip! It was a 4 hour plus drive each way and I had to drive on the way back as Katie - my colleague had to drive a Nissan Petrol small fire jeep (or I don't know what you call it) back. Anyway if you don't understand what the title says, basically it's known as the Fireman's Olympics. So all the sports events include something to do with firefighting. I was there for 4 days and 3 nights as we had to set up a booth to promote our website services to the volunteer firefighters. Anyway I'll let the photos do most of the talking: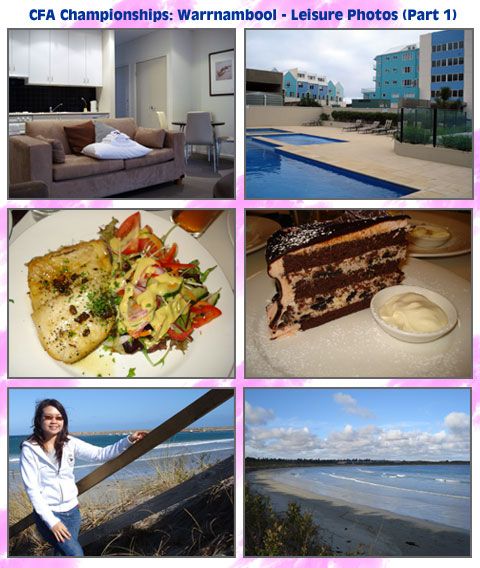 I stayed in Lady Bay Apartment, it was just next to the beach. My colleague got the hotel room instead and had a nice high level view of the lake. I had a ground floor apartment but I wasn't complaining since I had a kitchen, large living room and even laundry facilities where I can do my washing everyday. The swimming pool was just a few metres walk (and I managed a quick dip on the 3rd day!) and the food we had every night was just "too extravagantly much"! :p Behind me is Breakwater pier (the small line of brown u can see) built in the 1890s.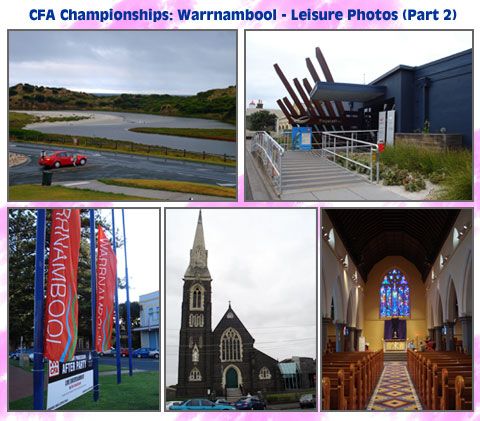 Didn't have time for much sight-seeing as it was mostly a working trip, so I took photos whenever I can. Top left is Lake Petrobe which I could see from my colleague's room. Then there's Flagstaff Hill, which was built like a historical village where one can walk through and find out about the town's history and the Visitor Information centre was also there. The flags were outside the Warrnambool city centre where the art gallery was. And bottom right: Snaps of St. Joseph's catholic church. My colleague was nice enough to give me an hour off to go for Sunday mass.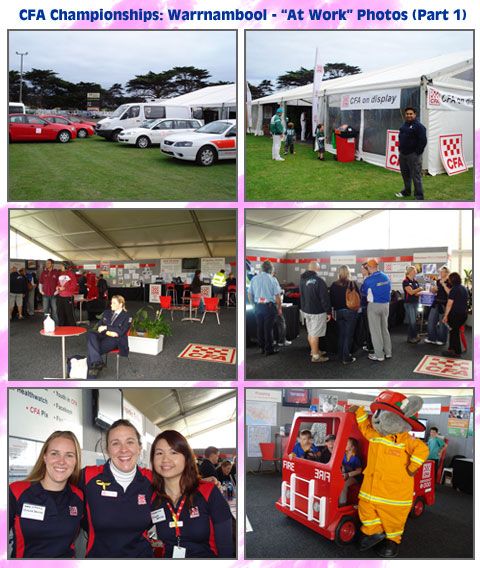 A Corporate tent was pitched at the side of the oval football field and inside were all the different booths like Merchandize, Junior Volunteers Sign Up, Online Services (us) etc... It was freezing cold in the mornings and usually cloudy. But luckily the sun would come out later in the afternoon. Meet Captain Koala, the funny looking figure in the yellow suit, next to the kiddie fire truck. He's the CFA Mascot for kid's events. Bottom left is a pic of me and my colleagues Katie (left) and Dawn (centre). Katie works with me while Dawn works in the Community Safety dept.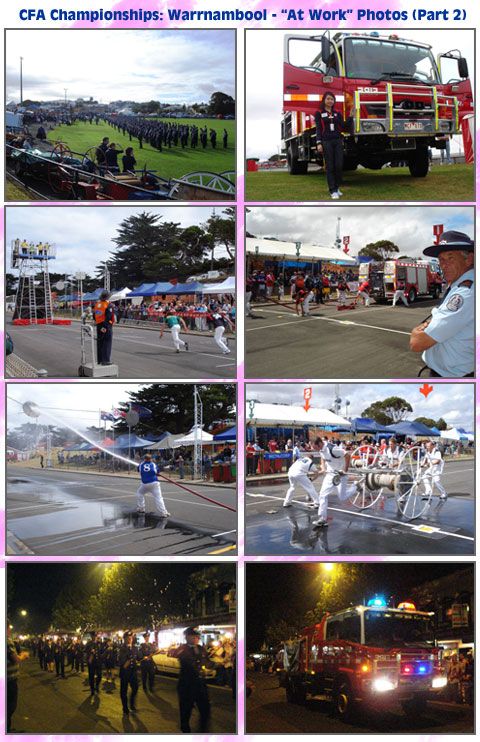 Like most sports events, there's some sort of official opening and at the championships, it was a marching of all the firefighters in their corporate attire. Premier John Brumby was the special guest for the occasion and a 1 minute silence was observed for the victims of the recent bushfire that happened. Check out the new fire truck on the top, it's huge! It took some effort to be able to climb up. There were a few different types of fire trucks displayed behind our tent and Katie took me around to explore them.
The sports events include hose connecting, running up the ladder, fire truck hose connecting and hose connecting with the traditional wheel or something (I don't know what you call it!) But in earlier days, hoses were coiled on those wheels instead of in the fire truck. Then on Saturday night, there was also the Torchlight event where all the firefighters parade in the town centre of Warrnambool carrying kerosene torches as they march through. The whole town of 2000 people gathered to watch.
Apart from work, I also had a bit of "play" and getting a bit pissed on one night. Like all company events like these where you go away, there's always a bit of flirting where everyone did with everyone! But that's a different story for a different day. :p Tata for now... And don't let your mind wonder too much as nothing major happened!
Full album on Facebook which you can see by
clicking here
.