You know it when the years go by and you get pretty lazy as you grow older and birthdays aren't really such a big thing anymore. It's especially depressing once you hit the big 30 mark. It's good for guys but not for us women because they say "Men are like wine, they get better as they mature but women are like milk, they turn sour as the time goes by". :p Not that I have hit the big 30 yet, but I'm just lamenting. Anyway this year was a pretty quiet one and darling and I actually took sickie just to spend time together (with Jasper too of course).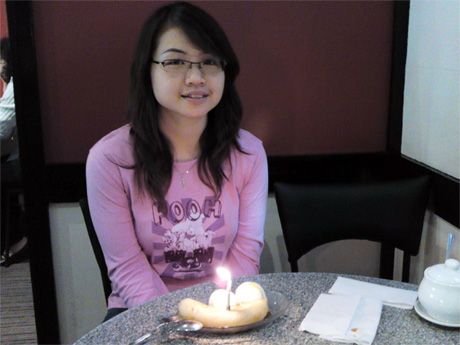 I decided I wanted to have lunch at Aunty's (the Malaysia Cuisine restaurant in Clayton that we usually frequent, in case you didn't know) because she usually gives free Banana Fritter with Ice-cream to us on our birthdays. Or at least she did for Tubbs and mine. Well Aunty wasn't around as her grandpa was sick and she was in Singapore visiting him. But another Aunty (we think it's her sister as they look alike) also gave me the same sweet treatment. :D
P.S: And no I have not lost any weight, tubby just happened to take a really good shot with me looking all slim and stuff. Look at the next photo and you'll know it's the same chubby me. Waha!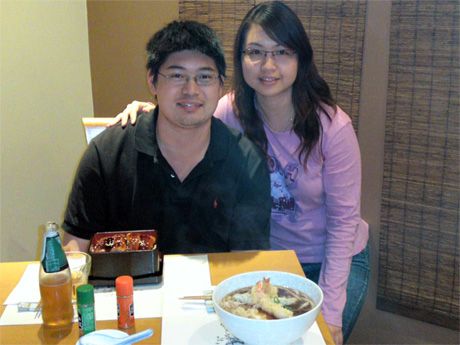 For dinner, darling brought me to this Japanese restaurant at Glen Waverley where he, wang wei and ammie had lunch a couple of weeks ago. He said that the japanese cuisine there was really authentic. I initially opted for Korean but then changed my mind since he had his mind set on the Jap restaurant.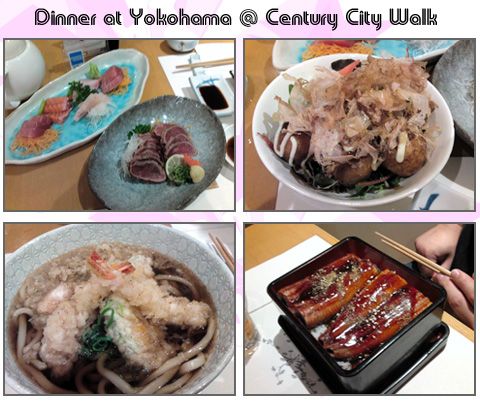 Photos of the yummy food! There was Sashimi assortment, Beef Tataki and Takoyaki Squid Balls for the appertiser. Then tubbs went for Unagi with rice while I went for Tempura Udon. Oh and we had Green tea ice-cream for dessert (not pictured, too busy eating it. :p) The restaurant is at Century City Walk where the cinemas are.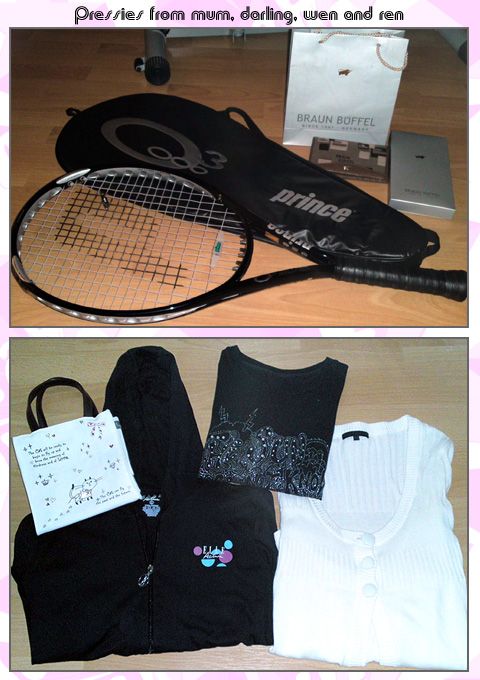 Thanks to darling for the exceptionally fine Prince 03 tennis racket which lets me bring my games to the next level! It offers great power with less strength needed I'm actually at the top of the ladder for the time being on the Friday night social games! Super happy! Then he also got me the Braun Buffel wallet. Also thanks to mummy dearest for the Jacket, knit-wear and tops (also the pink Pooh Bear one I'm wearing on top). Oh and to Sharon and Beiwen for the cute little bag.

And I'm also awaiting the belated pressie from Pal and for Mr. Chinaman and Ms Paikuat who promised me a meal when they come to Melbourne. Heehee...