Holla, it's time to update again... And just in time for a little consolation that my technical report had already hit 2000 words.. *lol*.. going mad.. Cause I am still short of 1,500+ words to go, a 20 minute presentation to prepare and 6 "predominant" power point slides that would decide my fate for this module. In times like this, yeah I would prefer the 2 or 3 hour exam to get it over and done with... So I'm taking a day break I think... to update my blog and maybe try out the new PC games that darling got for me... Before that, some update...
2 weeks ago, when I was meeting my supervisor for the project, Tina the IT admin officer dropped by and asked me to look for her after the meeting for a photo shoot. Apparently they were taking photos for the new IT brochure next year and she thought it would be nice to get a few shots of me. That was very sweet of her although I was contemplating whether I should go home and put some makeup and then again I was too lazy. So I hope the photographer would do some touch up and hopefully remove the dark circles and eye bags. *eeeks*... Anyway my mum arrived last Sat and Darling and I went to the airport to pick her up from her 4.45am flight. We reached there just in time and no prizes for guessing that the first place we went thereafter was Crown. I was so exhausted that I was practically sleeping at the Roulette table. Guess it was not our day too because we didn't win again this time... Coincidentally Rak kee and I was doing the readings for Mass that night and so mum was there to see. We actually forgot to bow before and after the readings and lucky Helen said it was fine since the Tabulet wasn't there because the church was undergoing renovations and so Mass was temporary held at the primary school's hall. After that was dinner at iimis in Traralgon after the aloof treatment we go from Quba restaurant at Midvalley...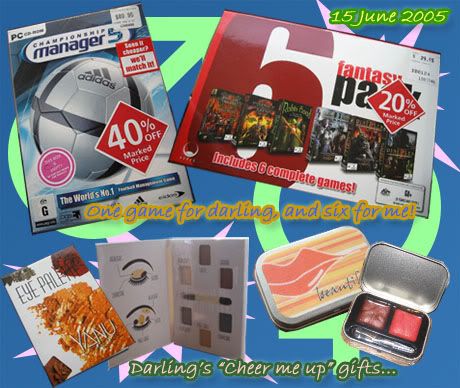 I remember I used to wonder why the Orientation helpers during my time weren't really that friendly at all outside the orientation event. And now I realised why.. When you just had enough of repeating your experiences and telling about Gippy, it's really bored sometimes to entertain the new student's questions. Once or twice is fine, but this time Josh asked Longy and I to fill in the Orientation helper forms again for sem 2's orientation and I was like.. erm.. oh well.. we just put our time down for 3 days this time, unlike the usual week long dedication. Finally got my pal SK's bday gift yesterday when I was shopping with mum at Midvalley. Not gonna say what I got for him in case he drops by to read my blog. Hope he like the stuff I got for him though and one of them was the symbol of what I always call him, "Hippo shoon".. haha =) Oh yah and I had lunch with Stacey and Henrie at iimis too sometime last week and the Mango and Marble Cake was really yummy. But we couldn't finish them after our main course and so Henrie took them home.. Yet another of my Pooh gang graduating this sem... Tigger's gone, and now's Piglet's turn.. Lucky I got Eeyore with me at the end of the year! Don't forget to hurry go hand in your Graduation form huh.. *blondee* ;)
Was feeling the shits again today.. maybe cause of the Java codes that always awaiting me to touch on, plus its that time of the month maybe, and the report that never seems to flow correctly yet.. (+.+) Darling wasn't too happy about his paper today and thus when 2 people are feeling shitty, there are bound to be quarrels, which we did have and which scared Miko and Audrey away to run for the bus to Midvalley.. *lol* Sorry Miko.. In the end we met them there instead and Darling got me some "Cheer me up" stuff.. plus the games which I can't wait to start! I had actually wanted an "Encouragement Bear".. but never mind.. anything from him =) *+huggies+* to you for ever putting up with me and doting on me no matter what..