I was getting really bored on Tuesday and decided to take a quiz which I found on longy's ex GF's blog. Yeah, we still go check out her blog sometimes just for the heck of being nosy and when we have nothing better to do sometimes. And to check out what her lesbian friends are up to every now and then... *lol*... So, if you're too stress doing your studying and happen to take a break,
you can either scroll straight down to the pictures and events below or
Try the quiz:
What Disney Princess Are You?
Ariel - You can swim, flip, dive and be one with fish...WHY DO YOU WANT MORE?
Hmmn, apparently I'm the so-call "princess" above and I wonder is it because of the hair colour that I chose, or was it the part they asked about virgins and my answer was, "With all these men on me, hell no!" Damn.. haha.. I'm just joking and anyway darling won't see this, so it shouldn't be a problem yeah? ;) Furthermore, I have my principles and its NOs NOs to any Tom, Dick or Harry out there.. You can dream on.. Then, there's another quiz I saw on my friend, Valencia's blog, check this out:
You Were Actually Born Under:
You are totally loyal, faithful, and honest.
However, you don't trust others to be as ethical as you are!
Straight forward and direct, you really aren't one for small talk.
You are a great listener - and an agreeable companion when you're in a good mood!
You are most compatible with a Tiger or Horse.
You Should Have Been Born Under:
You're most comfortable inside your head - and often daydream the day away.
You have an artistic temperament that makes you seem creative to some, eccentric to others.
You avoid conflict at all costs, and you have a difficult time with relationships.
Attractive and with good manners, you tend to shine in social situations.
You are most compatible with a Pig or Rabbit.
Heehee... Well I beg to differ in some of the things mentioned for the Year of the Ram, in which I think more likely should be Goat instead.. I used to have difficult time with relationships in the past, not until I found my "piggy", who's lovable, caring and humourous, he makes me laugh all the time... *huggies* As for the other quiz outcomes, yeah they shout 'Mel' truly...
Lately, I have been having mixed feelings of sort and when it really gets me down with the stress of my Honours project, I tend to imagine how life would be like if I had come back aust. for a Hairdressing course instead of going through this torture. My supervisor had been rushing me and stuff and was saying I hadn't done much during the first semester. Yeah I reckon he's right to a certain extend.. It would have been so much better if the project was on creative design of something or whatsoever than looking and trying to program Java codes. Then there was the email sent and the dream I had about a bunch of friends back in SG. It's about how it's always a threesome and not a foursome, don't get me wrong people, I'm talking purely about hanging out and not other stuff. I've got replies from both of them and the other one as expected didn't, knowing her attitude and the last time we chatted on MSN, the significant topic was to email her the sample assignment solutions if I had any.. *sign* I shan't go to further details cause it's a mind boggling thingy..
Some special events that happened this week:
~ Mon 30 May : ISA Elections, in which Len was shitting herself on whether she would get the Welfare officer position due the fact that there was another china bloke competing with her. She won in the end having 57% of the votes out of three nominees anyway. Gal, you should have more faith in yourself yah! Cheerios to you on your upcoming position...
~ Tues 31 May: ISA Gathering & Potluck at Vijay's house. The present and future members had an interactive session, discussing about contributions to the committee and also some other "personal Q&A session. Nancy (Lyell's wife) and I were just social escorts to our other halfs.. =)
And dear Tigger, your virtual presence still lingers in Vijay's house with photos of you with them all over the house still.. awwhh.. so sweet...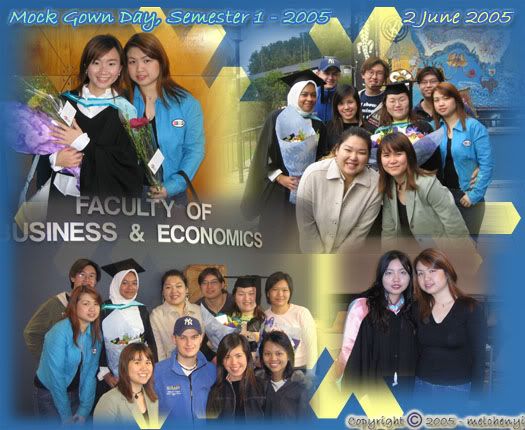 Anyway, we get to more happy stuff, like today's the mock gown day for Miko, Stacey, Samantha, Noor, and of course some other pure friendly aquaintences. It's not meant to be a sarcastic comment, its just the normal "hi-bye" friends and I do sincerely congrat you on your graduation too. Well, our dear Miko woke us up at 11am cause she only found out today that the Morning Tea session was at that time. And we of course, still snuggled up under our doonas in the warm bed, took another hour to get ready before we headed down Midvalley to get the flowers for them. Miko looked so pretty again and Longy said she actually looked like the graduation bear; Yeah I would take that as a comment. When we later dropped by MI to return the gown, I was asking Heidi if there were any differences between the gowns for bachelor degrees and honours degrees and she said probably the strips or colours on the sash would be different. Hope so, if not I would be round in the same gown again for next semester... Len and I were talking about the number of times we walk to the Monash Stone Plaque at the roundabout to take photos and there was one more time to go next sem, or is it really? =)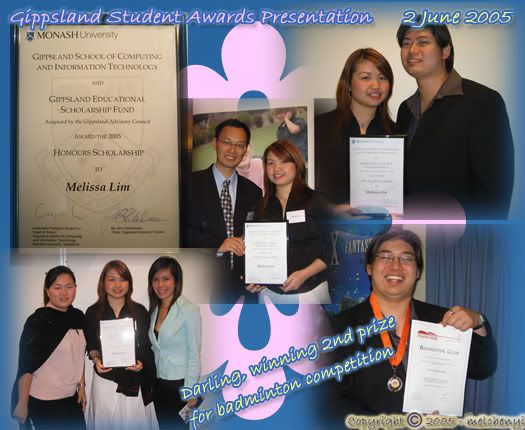 Tonight was also the Gippsland Student Awards Presentation Night and my invitation only allowed up to three special guests I could bring along, and no prizes for guessing who they are. I felt like such a loner with only one award for the School of Computing and IT and the other awards were presented in acknowledgments, while most of the other awards for for the School of Applied Sciences and Engineering. Well but it was all good anyway... I was joking to Len when she was trying to get a shot of me that the lecturer might probably forget about me, haha.. When we first reached there, Miko, Len and Longy were lingering near the food table with all the exquisite and delicious munchies. After we got home, it was triple celebration (one was Miko's gown day, two was my awards night) when darling got his medal and certificate for the badminton tournament as well... Well, so much for this "full-of-content" post, it's time to go shower and try to get some studying done.. cheerios for the exam to all..