Just got back from my Malaysia/Singapore trip last Saturday. For the first time, it actually felt exceptionally good to be back. I've been missing my family and besties for too long. But as it was the usual two weeks holiday only, I had to squeeze as much time to meet up with those that matter. Although a couple of others I really wanted to meet couldn't make it cause we all had time constricts too since it around the Chinese new year period where everyone was busy.
And not forgetting I had to make time for my hairdressing, dentist and eyebrow embroidery appointments too. So here's a snapshot of those dearies I got to meet. Even if it was only for an hour or half hour, it was the fact that we got to at least see each other that mattered. People in the photo from top left clockwise: Joewiz, Len, Denise, Evon, Cousin Aiting, Nephew Desmond, Niece Felicia, Cousins Janice and Kristie, Beiwen, Susan, Sharon, Cindy, Shiguan, Ruiqi and Ailin.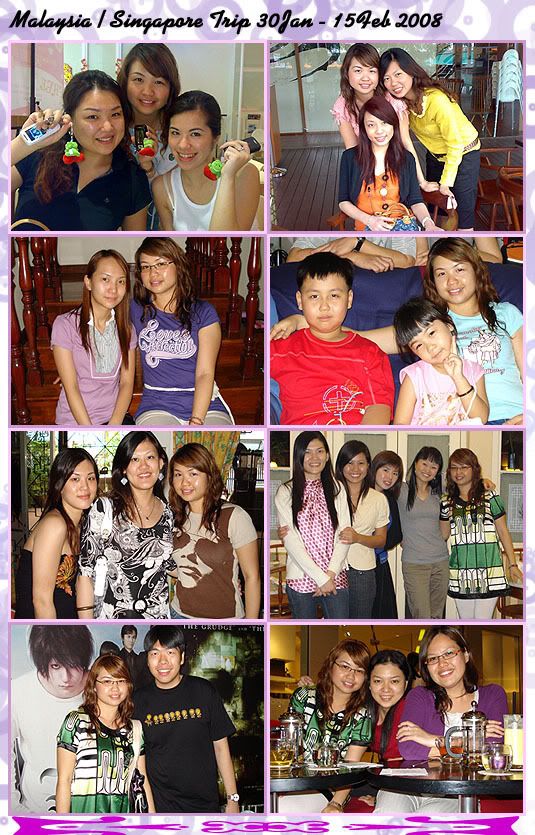 *Full photos of trip available on Facebook ;)
Going back was a mix feeling of happiness, sadness and also nostalgia this time. I was happy to go back to my darlings Tubby and Jasper, but also sad that I only get to see the family and friends close to my heart only once a year. It probably got worse over the years because the amount of time they have been away from me got longer as the years went by. But I was really touched that my chabohs Len and Looloo drove all the way down from KL just to meet me over the weekend. It was short but sweet girls! MUAKS Also I really appreciate my other girlies who got together to meet up when I was back as well... You all know it, I love ya all!
Anyway I was chatting to Denise the other day, she could tell I seemed sad. My feelings of unhappiness were showing because life now is like hanging on tassels. Tubby just graduated last Dec and is now looking for a job around Melbourne. And once he gets one, I'll quit mine and join him a couple of months later. The waiting part is the most excruciating and so is the thought of having to find a new place to stay, looking for a new job, change of environments and stuff. And it doesn't help when Tubby's parents are causing troubles for us; like not liking the idea that we're staying together, and still treating him like their precious baby boy.
It's hard isn't it? A relationship can never be perfect right? When there are no problems with the couples themselves, the family members might be the one causing the conflicts. It's like the saying, "When you marry someone, you marry his whole family too". My parents talked to me about this matter and they warned me future problems. I'm also really vexed sometimes cause I'm not sure if I should give up this relationship just because of them, though I'm not too sure how long more I can take it. From the way his parents are behaving, they are not expecting him to settle down in the next few years; which is what our plans are. So this is a hurdle which seems almost impossible to jump over...