We brought mum to Carribean Market last Sunday. It's located near the Ferntree Gully and Wheelers Hill area. The market only opens on Wednesdays and Sundays and they offer a huge variety of goods ranging from clothing, fresh produce, lollies, plants, art and crafts, household goods, tools, prints, shoes, toys, giftware and bric-a-brac. A live band was playing that day and we've gotta say they were really not bad in their singing.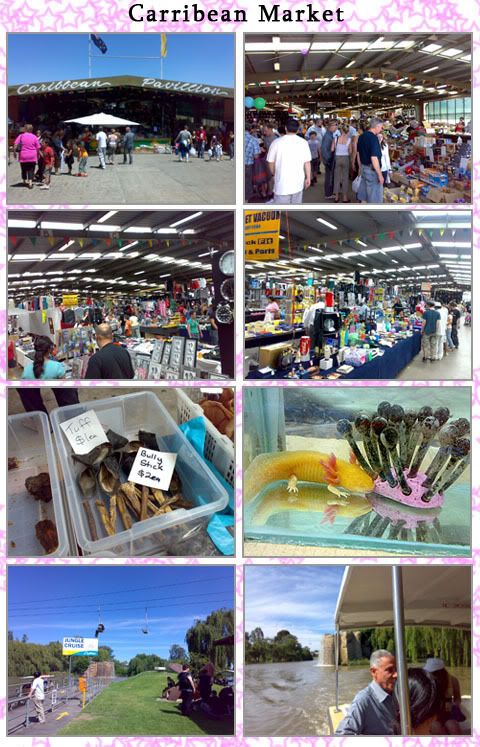 They also had rides like: a train which runs along the lakes, a jungle boat ride which Mum, Ying and I took and the chairlift which brings you from one end of the lake to the other. It was a hot day but we had fun. Mum bought some treats for Jasper and we were pretty amused by the "bully stick which is actually bull's penis. heehee... :p We also saw a salamander a.k.a four-legged fish with legs. I think I turned a shade darker after the sun that day.

I was on leave from the 22nd Dec onwards and so mum and I took another day trip to the Docklands and the city because the Southern Star observation wheel is finally open. But not before we took a quick trip to St. Kilda beach where we had some gelati to cool down.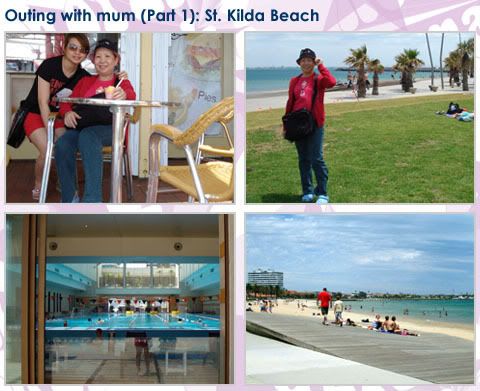 It was funny to see Mum in her jacket (to keep her hands out of the sun) when everyone were in bikinis or swimwear. We took a short walk along the beach. There was also an indoor salt bath or something, and you can look into the swimming pool from outside. Seemed funny to have a pool just next to the beach? :p And yes there were lots of hot girls sun-tanning too.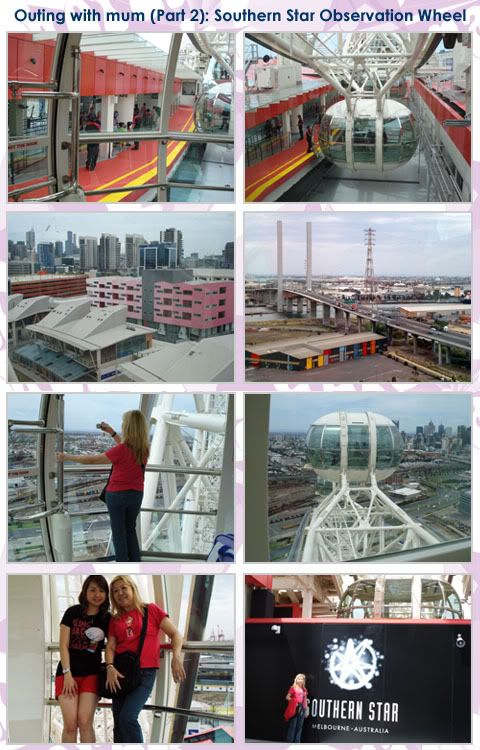 Lucky for mum, the "ferris wheel" was opened just on that Saturday before. And surprisingly though, it was not at all crowded on the 3rd day of opening. Mum was saying, if it were in Singapore or Malaysia, people will be lining up around the block. :D Anyway tickets are AUD$29 for adult and my non-expired "student pass" got me concession price of AUD$23. It was air-conditioned inside and although the view wasn't that great at all, it was just an experience I guess. We were supposed to look at the camera in the capsule after us and it would take a photo of us, but bad luck that the camera wasn't working. :(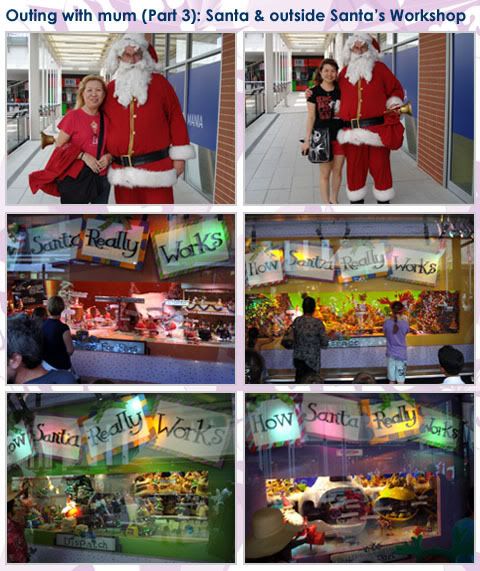 We met Santa along the way and decided to take a photo with him. He was giving away free candy too. :p And just outside on Bourke street, Myer had their usual annual Christmas displays on the windows. I don't know if it's the same theme for every year, but this time it was Santa's Workshop. Basically it's like a display of moving puppets and miniature buildings. There was a line if you want to catch a closer look, but mum and I were lazy, so we just took photos from the outer section. :p

It was a tiring but happy day and later, we met darling after work and went home with him.