Firstly a very
Happy New Year people!
Us lazy bums (meaning darling and I) were home during New Years Eve doing what? Playing the new xbox 360 which we just bought.
Anyway this year we had our first Christmas celebration in city itself. In the past, I was usually back in Malaysia or we celebrated it in Gippsland. And I've gotta say the mood was felt much more in the city that Gippy. I was happy that mum was here this year to help me put up the christmas tree and decorations. Darling also helped in the decos like hanging the wreath and the "Season's Greetings" banner.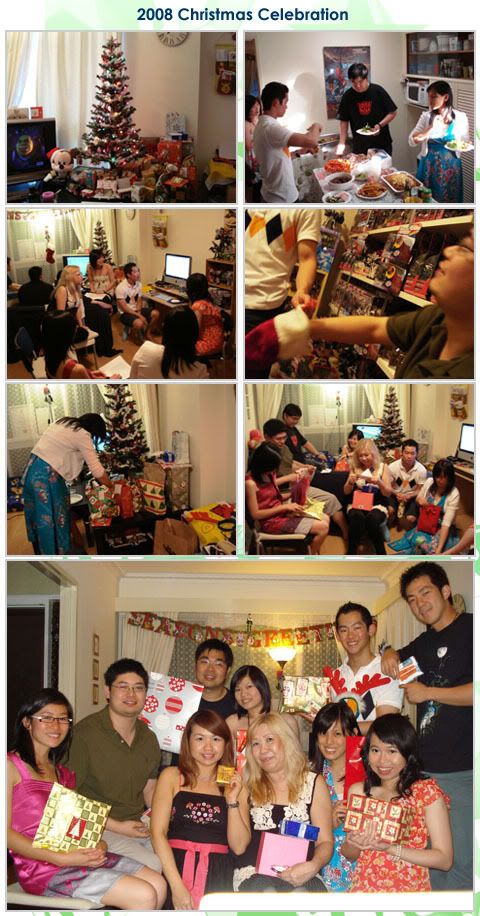 It was good to be able to catch up with friends and having mum around this year. The company is almost different every year, not much but we had extra friends which made it all the more fun. Anyway the tree was packed with presents all over, we ate (alot), sang carols, and played a number picking game for the random gift exchange and of course everyone had their fair share of designated presents as well. Full album on
facebook
. :)
On christmas night, Darling and I took mum on the trip to The Boulevard on Ivanhoe to view the christmas lights and decorations. (Sorry I know the spelling on the image is wrong, but I'm too lazy to change, haha... :p) We brought Jasper along who was happy just to take a walk.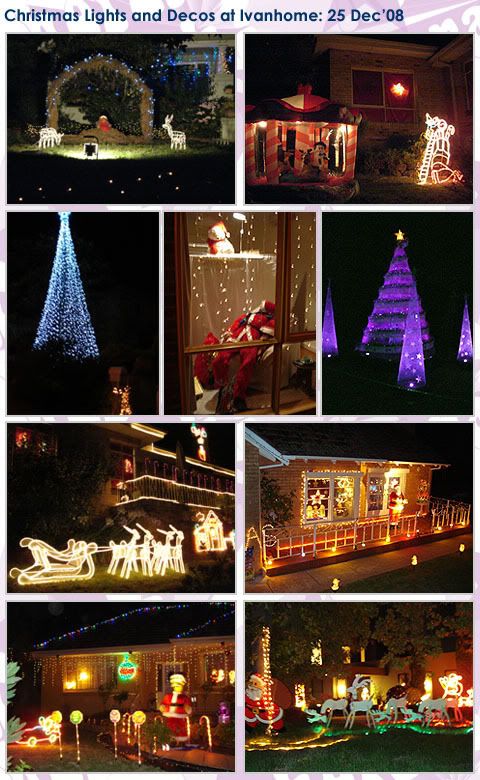 The Christmas lights and decorations is an annual thing which was started by George Whitelaw in the 1950s. Every year many residents in the street cover their homes and front gardens with lights and other colourful Christmas decorations, attracting many people from all over over Melbourne to the extraveganza. We've been there a couple of times but this year there just weren't as many houses that decorated as in the previous years. The bad economy maybe?

Before Mum flew back, we also brought her to the Cuckoo's Restaurant for her sort of "farewell" luncheaon. She had a great time there, enjoying the food and the performances. Prices were steep at $40 per head for a buffet lunch though and $60 a dinner. But it was well worth for the experiece. (though it's the second time for me there.) :p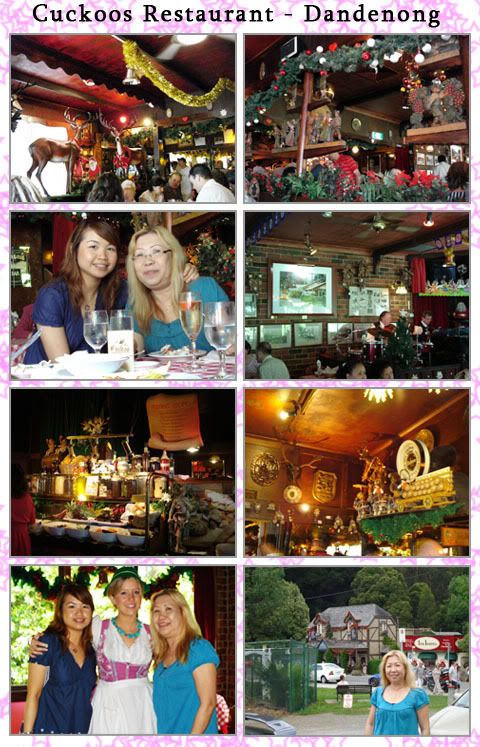 They had nice christmas decorations up as well and mum and I also just had to take a photo with the pretty waitress dressed in belvarian costume (I think). After lunch we also took a walk along the street to try and burn all the food that we ate. Mum also bought a cute keychain clock shaped as a mobile phone from one of the gift shops there.

I'll be missing mum till the next time I see her again. Darling and I were so lost in the first week as we we so spoilt by her cooking for us everyday. And now it's back to junk food and take aways for us again. :(