Howdy everyone, my "sunshine" is back and thanks to the dear encouragement of my dear girls and cousin, I feel much better regarding the parent issue in the previous post. Anyway hoped everyone had a great Valentine's day both singles and couples as it's not just a day about couples in love, it's also about showing your love to your family and best friends. ;) Darling and I spent the day catching up with each other since he just came back from Singapore the day before. We did some shopping in Southland and then bought food back for a home-cooked candle light dinner.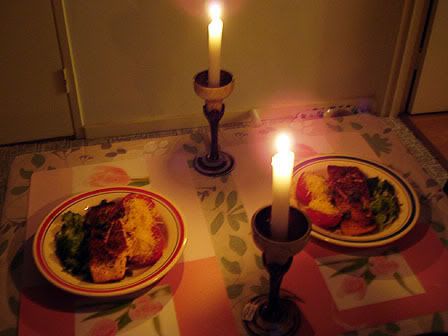 Nothing else beats a nice home-cooked dinner prepared by the charming and loving chef, and with the extra touch of the candles in their vintage candle holders which I got as a farewell gift from my previous company.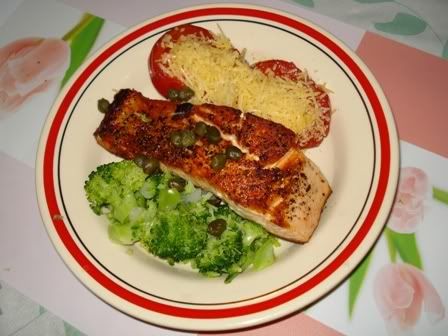 And a close-up of the nice pan-fried salmon with capers, broccoli and grilled tomatoes with cheese. Mmmnnn yummy, and even darling Jasper had his royal taster's role fulfilled by having some of the food as well. :D

After that, we rented a movie to watch on Foxtel: Indiana Jones and the Kingdom of the Crystal Skull. Honestly I much prefer the previous ones, this latest one was just lame. I mean flying saucers and aliens? Whatever happened to the good old ancient artifacts and mythology? Have plot writers just run out of good ideas already? Speaking of which I also watched Bride Wars with a colleague a week ago. That was a chick flick alright but still it was funny and had a good storyline and I especially love the ending that two best friends didn't fall out because their plotting against each other before the wedding. But that plotting actually helped one of them figured out that her husband-to-be really wasn't "the one". Anyway it's one good movie to catch with your girlfriends and you can ogle at the Tiffany ring and Vera Wang gown. :p
On to another topic:
Tennis; my favourite sport
. As you might know I have been playing since end 2006 and have joined some local comps and stuff in Gippsland. When we first moved down to Melbourne, my ex coach recommended me to a coach he knew at Nottinghill tennis club in Glen Waverley. Now it all started out fine at first (with the coaching I mean). But then because I wasn't "as important" as the wannabe kid star players, the coach kept changing my time slots and then eventually passed me on to his son. Then his son had some emotional problems while moving house and stopped contacting me. I thus had to contact the father again and he fitted me in one of his "precious time slot".
So all seemed fine until the weeks near Christmas when I had to skip a lesson or two as I wanted to spend more time with mum. Mr Coach then got unhappy and said I should just keep my coaching lessons on a casual basis. And I thought to myself. "What a petty and arrogant person!". And so I let the matter rest and thought I'll contact him again in the new year. And guess what? Mr Petty refuses to answer my call or sms. I couldn't be bothered anymore. Tennis may be my love, but that doesn't mean I have to beg someone for it. There are heaps other better coaches out there who are willing to teach whoever wants to excel.
And so darling and I have been looking around for other tennis clubs to join since then. When he bought a new racket for himself over the weekend, we decided to try out the clay courts near our place. I have always only ever played on hard courts and this was my first time in the clay court. Gotta say play in a clay court is certainly much different that in a hard court. The balls are slower and the ball can suddenly change direction depending on how it hits the clay.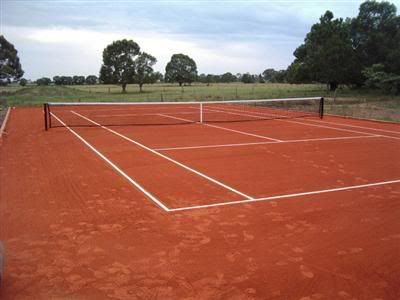 Clay Court - usually made of crushed stone or brick. Cheaper and faster to build but more expensive to maintain as they need to be rolled over to preserve flatness and spray water on it before and after play.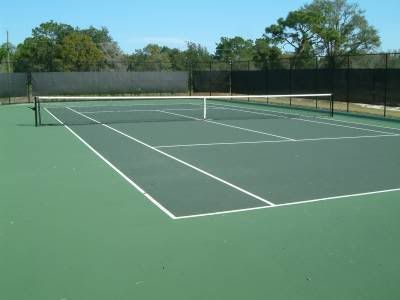 Hard Court - Basically just hard concrete but more expensive as you have to bring in special concrete to build the courts, but cheaper to maintain.
At the end of the 1 1/2 hour on Valentine's day evening, we decided that was the first and last time we're gonna play on clay courts. No doubt it was also fun, but I wasn't used to it and slide and fell to the floor on my bum once and Darling just stood there laughing at me. :\ But haha that wasn't the main reason; when we finally finished playing, our shoes and outfits were all reddish brown! All the sliding and running for the balls had turned us into dirty, dusty bums. I had to go home and scrub off the stains of our shoes and clothes like hell and figured, "No I wouldn't want to be doing this all the time". :p I just found out about the Hard courts at the Monash Clayton campus today and made an enquiry. So darling's accompanying me for a lesson with the new coach this friday (who happens to be an Asian who's Singaporean, haha). I just hope everything turns out better this time. :)