Happy Lunar New Year everyone, it's day 9 of the Lunar New Year, which is also known as "Chu1 Jiu3" in mandarin. This year was a quiet celebration as most of our friends are all back home in Singapore/Malaysia. Darling was supposed to go back on the eve as well, but because the company needed him during the Australian Open, he postponed his flight to a week later. And so as I'm typing now, he's about 7000kms away from me.
My dear chaboh Joewiz's younger brother came down from Leongatha to join us for a mini reunion dinner at aunty's - Wah Kee restaurant in Clayton. There were just four of us including Ammie. It was a small gathering but we ate to our hearts delight, just couldn't be bothered taking photos though. Prior to the dinner in the afternoon, darling and I made our way to Springvale - the vietnamese/chinese area in Melbourne for beef noodles. Being CNY eve that day, there was a carnival going on with lots of rides for kids and stalls selling food. And not to forget Lion Dance - a popular thing during the festive season.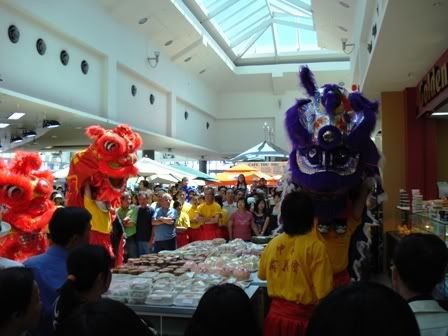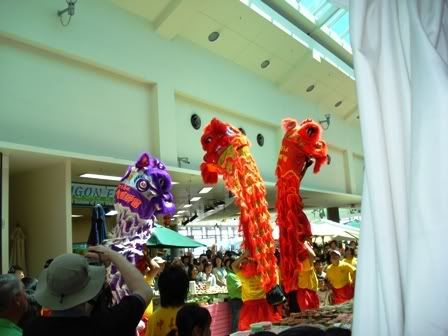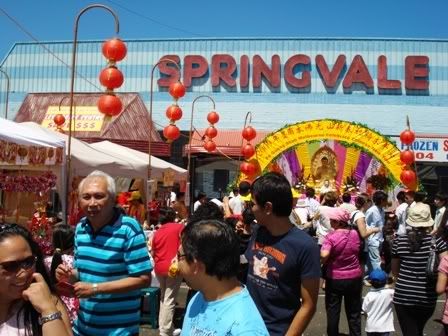 I was pretty happy as I love my "Bak Kua" during CNY and we found a stall selling it. They call them Honey Pork/Beef Jerky over here and boy are they expensive at $2.50 a piece! Yeah they don't go by $ per kg, they go by per piece! In the end I bought 10 pieces just to satisfy my cravings. Of course they naturally didn't taste as good as those back home. :p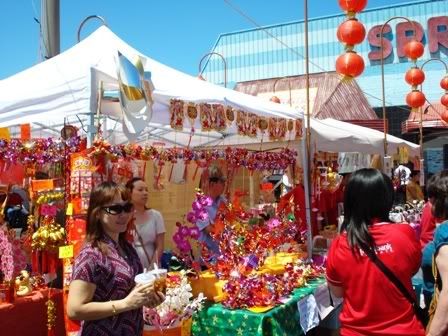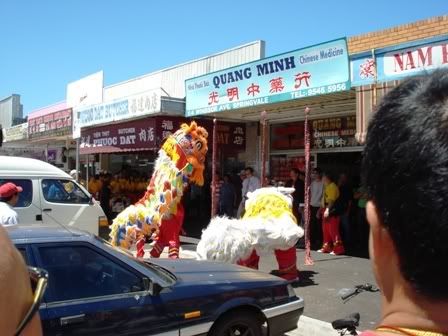 And that was sort of all of the CNY "celebration" we had. When you're not back in your home country, it just doesn't really feel the same. Mum sent me photos of my brother, sis-in-law, cousins, grand dad, nephews and nieces and updating me all about what was going on with the family back there. And then of course it doesn't fail to get to the point of my parents hinting when are they gonna be grand-parents as they sort of get all jealous about everyone else around them being grandpas and grandmas already, which brings me to the next topic - about why I don't think it's gonna happen anytime soon.

As those who follow my blog would know, the boyfriend's parents and I never got along. Especially after the "show-down" his mum and I had back in Dec 2007, we never communicated since. In short she sort of lectured us like we were a bunch of 10 year olds caught kissing or something and doesn't really want her son to have a girlfriend. Over-possessive or controlling? I won't stoop down to her level to mention the mean things she said. Basically the boyfriend's parents just want their son to achieve well for his future but without a better half - unless of course maybe they want his better half to be one they hand-pick.

4 years of us being in the relationship together, yet they still always talk about matters/plans that revolve around him alone and not around us. It's like somehow they hope that I'm just a passing phase in their son's live and will leave him in the near future. To them, he will always be their little perfect baby son of which no one is good enough for him. From their obvious attitudes and behaviours, the "M" word is out of the question (at least for some time) as they will probably go nuts even hearing it. Is this God's way of testing our love for each other? A perfect relationship - too perfect till there must be some who want to destroy it?