Been a good girl stayin at home for the past 3 days and apart from going out window shopping with my mum, the rest of the time was keeping my room "company". Lucky my laptop was done and I could collect it back, else I would have died of borden. Well, decided to give my blog a new design. Hate the scroll bars but can't help it cause the wallpaper size was fixed and scrolling too much down the browser would attain repeated tiled images of the background. Well, forget what I said if ya can't understand, so anyway, welcome comments if ya have any...
As I have met up with my ex-colleages last week, here's a shot taken with them. Mind you single girls out there, 3 of them are swingin bachelors, so if anyone's interested in knowing them, just drop me a message and I promise to keep mum about it.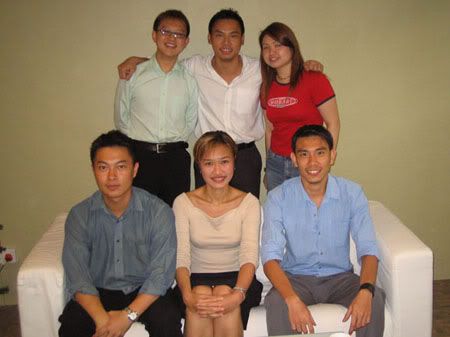 Hyahz... Still waiting and waiting for my "conclusion". But decided that I would let my ladyboss know I'll start work in 13 Dec. Well, sat my ex-airport officer's car coz he fetched my sis-in-law and me to the airport last thurs. Hmmn, nice Light silvery blue Mitsubishi Lancer Sport Model with nice body kit, sport rims, CD/DVD player etc... Still one of my fav cars, short of MOMO stering and gear plus racing seats would make it perfect -> for me haha... In my dreams prob., in few years to come maybe? Anyway, flying back to Melbourne in a week's time to meet up with Tigger for our Adelaide trip. Well, hopefully by that day, things would have come to a certain aspect so if there's anything I need to run away from or to forget, I could use the trip to relax and get my mind away from it...