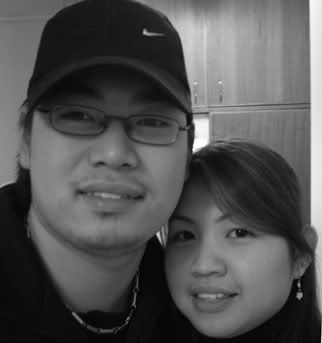 - TO MY DARLING, I WANT TO TELL THE WHOLE WORLD HOW MUCH YOU MEAN TO ME AND HOW MUCH I LOVE YOU...
- EVEN THOUGH LIFE IS GONNA PLAY TRICKS ON US, TO SEPERATE US NEXT YEAR, WITH ALL THE EXASPERATING TASKS APPLYING FOR PR & WAITING,
- I STILL NEVER WANT TO LOSE YOU...
- YOU ARE MY PILLER OF SUPPORT, MY SOURCE OF HAPPINESS AND THE LIGHT THAT GUIDES ME IN MY LIFE...
- I COULD NEVER FIND ANYONE ELSE MORE PERFECT THAN U, AND I PRAY TO GOD TO LET US BE TOGETHER, TO STAY LOVING AND FAITHFUL ALWAYS..
Sorry about the mushy stuff, technically I was supposed to be doing my readings for my thesis, but too much happened to me yesterday that I feel an even more heavy burden now and just had to update my blog. Was chatting to Micheal on MSN, one of the ex-gippies who studied IT with me as well, he graduated last year. He's back in Msia now working in an IT firm, and did his PR application offshore. I was asking me about some modules I was gonna take in Sem 2 and he told me the ones I chose were pretty difficult. He asked me not to always be so hard on myself and take those difficult modules, passing the degree will be good enough. I told him I didn't have a choice with the limited modules to choose from. He then went on saying that I treat him like nothing when he cared so much for me.. I guess I might be too insensitive and uncaring towards my other guy friends sometimes... *Will keep that in mind, and be more concern about them*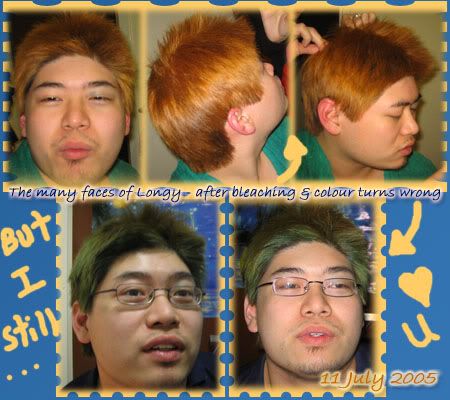 Last Friday, darling's mum went back to Singapore, so this vain pot finally can't wait for the chance to be able to bleach and dye his hair. The after effect of the bleach was pretty nice and he looked more charming than ever with the light brown hair. *Sorry, beauty is in the eyes of the beholder* But, hey then again, darling is charming right? Anyway, apparently the blue coloured dye didn't turn out exactly the way he wanted. Think it's cause we dyed too soon right after the bleach, so some parts came out green instead and some parts remained blonde. He still said he kinda liked it and maybe later on, we'll dye it some other colour. He was boasting to my mum about how he could finally dye his hair after his mum was gone, so that it could start growing back by the end of the year. His mum's eyes will pop out if she sees him like this!
Well, back to te earlier point, Honours ain't called Honours if it ain't difficult anyway. There were so many times I regretted coming back and felt like giving up, like Im at the edge of the cliff wanting to jump off. But when I relinquish about the times I've spent with darling, which are the happiest moments of my life, I knew I wanted all these, even if there would be a test in our relationship when we get seperated next year. Dropping at the library earlier in the evening wasn't such a good idea cause after the talk on PR application with Abraham, I felt so dejected, I had to go home immediatly to see darling, in case I start sobbing there and then. Know why? Because PR application is such a tedious thing here and I have to get police reports from 3 countries to prove I had "Good Character". That wasn't the saddest part still, it was when he told me only when my degree was accredited by the ACS (Aust. Computer Society) when I graduate will I then be able to fully submit my full application. Thats means, months of waiting back in Singapore or JB next year while waiting for an answer, not being able to get PR end year so that I can stay on and work in Gippsland and not being able to see my darling everyday anymore... *sob sob*...
I was so affected by the information that I couldn't stop crying at the thought of being seperated from darling next year. The funny part was that I was more affected by that than by the thought of sg govt. finding out about the bond through the police report check. Being apart from darling the four days when he was with his mum was already unbearable, this time it will ne worse. My parents keep telling me to stop worrying about the PR application thingy and concentrate on my studies. I told them I would try my best. But I still kepy crying to darling telling him I miss him already for next year... =(