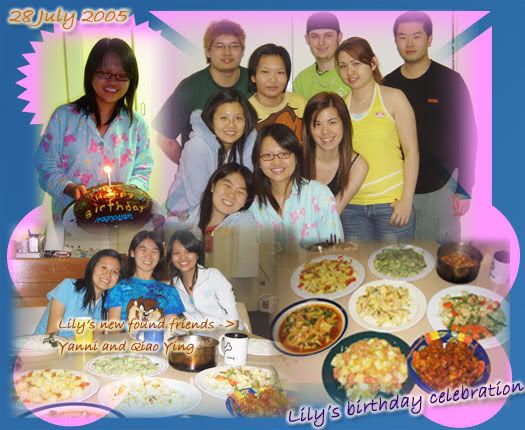 Just celebrated Lily's birthday for her on Thursday. She was a real happy and delighted gal that day. She must have thought we were all busy and with Miko not around, we probably would have forgotten, but hey we didn't! Gave a surprise knock on her door at about 12.15am that night and she was clad in her pyjamas only when we brought the 'cakes' out for her. Len and I had baked one for her and Yanni and Qiao Ying bought one for her. As in the usual practice, longy had to hose her as well, but we didn't go too far, just the back of her PJs were wet. Had a potluck birthday dinner for her later that day and boy it sure felt good having a sumptious meal once awhile with 8 dishes and it was a lucky number too! Hope you had a great day Lily!
Shit, I got the months mixed up in the photo, should be July instead of June. Well, anyway, ironically it was Lily's birthday but I got some gifts from darling too. He wanted me to still know that I mean alot to him. The previous post and the cold shoulders I was giving him 2 days ago really hurt him. Guess Val was right about being stressed and getting to a point in time where I need to sort some things out. It didn't totally clear my thoughts, but then again, Darling's too sweet not to be loved and with the amount of love he has given me, I realised you shouldn't ask for too much sometimes. Understanding and compromise are some of the things that are needed to make a relationship work. I know sometimes he could be the most irritating person in the world, but I would miss those silly things and stuff if they are not here. People tend to regret stuff only when they lose it and it happened to me a few times, so I hope I can be more level-minded in future.
Met my supervisor on Friday and it lifted up my spirits a little after we kinda got the project sorted out a little more. Joyce had been asking me about my faculty brochure ever since her's came out a week plus ago and she was on the front page. Well, I just happen to pass by the rack and saw that the brochures for my faculty had just arrived and so I check it out to see how my photo shoot had turned out. The first thing on my mind was it didn't quite look like me. Darling and Len say I look natural and fine in it though, it doesn't really matter anyway. So the rest of that day was spent playing games and having dinner at Quba thereafter. Awww, the Prawns and Calamari with garlic sauce was awesome and darn I really have been eating quite abit the last few days.
Today(Sat) was a happy and fruitful trip down Melbourne with darling. Yess just with me and you and you and me. It's been a long time since the two of us went anywhere together and so we decided to just make it "Our Day" today. Mt. Dandenong ranges was a great place and even though we were there only for a short while, it was still a joyful trip. We got some toys and bracelets from GEPPETTOS WORKSHOP and had tea at MISS MARPLE'S TEA ROOM. Man, the scones there were really awesome with the raspberry jam and whipped cream. Actually everything there tastes great, especially the desserts and darling tried out the soup too.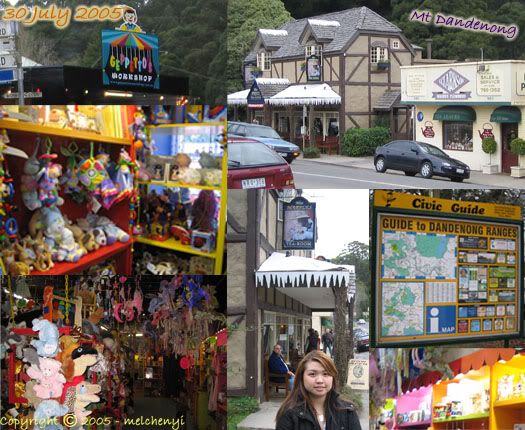 Couldn't believed just an hour after that, we headed down to Uncle Danny's for dinner. We had no where to go cause all shops were closed by then as it was already about 5.30pm and the main aim today to go collect the durians darling ordered anyway. Noodles and Wraps had the best malaysian food ever and Darling, Len and I love everything there. From the Sar Hor Fun, Char Kuay Tiao, Ipoh Hor Fun, Fried Rice to Curry Soup, Len keeps imagining ways to abduct Uncle Danny back to cook for her... Haha..