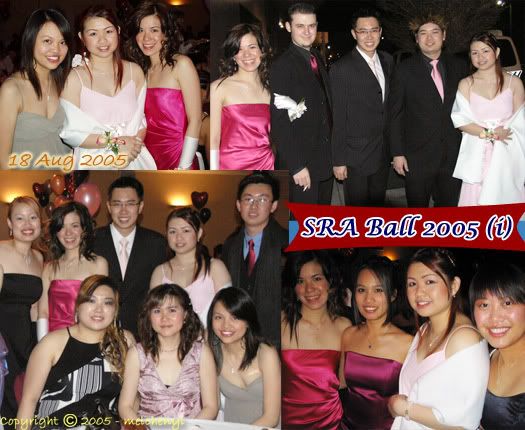 Check out the pretty gals and handsome guys in the lovely gowns and cool suits. Yeah I would miss these kinda formal events next year where you can dress people up and dress up yourself like a pretty princess. It's not like everyday you get to look really gorgeous right? And the men are getting naughtier too. ;p You know which two I mean yeah?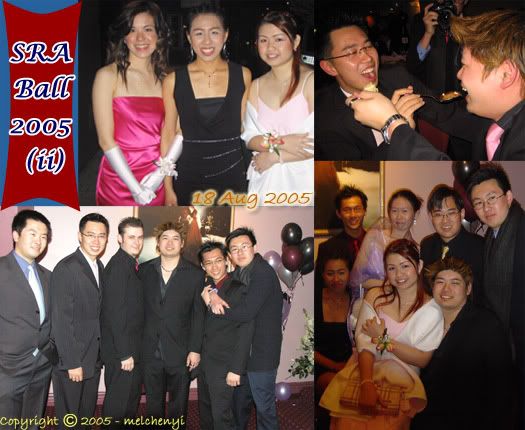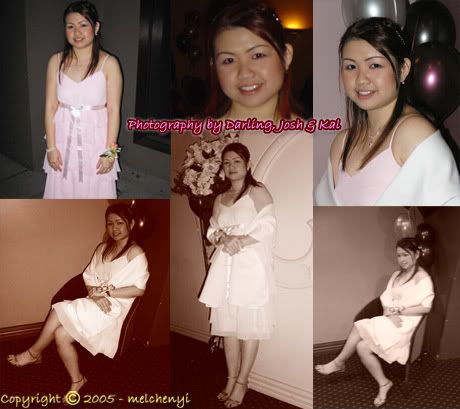 Yess, those were the main highlights of yesterday. The SRA Ball 2005, an annual event by the Student Residences. Same venue but different food and I reckon the food last year was much better. And I miss the people, the important ones like Denise, Evon, Stacey, Henrie, who were there last year. But it was still good with the nice new friends we got to know these sem. Doing the make-up and hairstyle for Debbie was fun and I'm really touched she left a really sweet testi on my friendster. *Thanks Gal! ;) Getting ready wasn't as much fun when after Deb, I did the hairdo for Joyce as well and in the end, I was left with so little time for my own make-up and hairdo, Len was cursing and screaming about her hair too. But lucky she and Joyce helped me with my plaid and half-bun in the end. You go gals! But as usual, we had to make the grand audience of being late with the two Toyotas' arriving like 7.45pm when the ticket put 6pm. Haha, we made it for the main course anyway. And you thought chinese weddings were alwayz late in starting their dinners. =)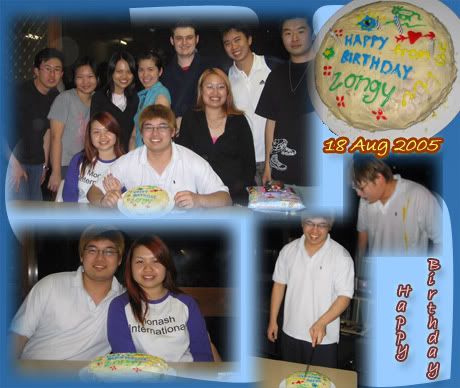 Anyway, I was telling darling I could have a side-line of either being a Hairstylist or make-up artist. People come to me when they wanna dye hair, do highlights, trim hair, do make-up and hairdos for Ball, hmmn maybe I'm taking the wrong course?! Darling joked about charging $10 for hairdo or $15 for hairdo and makeup and I said no, friends are complimentary, right? ;) So we get back to darling's birthday surprise on 12am plus. He volunteer himself to be "sabo". So Len had the hose on him, Lily and Audrey had flour on him and Kal couldn't miss out with his eggs as well. Poor darling.. But it was all for fun anyway. Hee, my cake didn't turn out quite well cause the baking tray I used wasn't large enough, but lucky there was the icing to camouflage it. =) And darling's after party last night really got him dead drunk with his puking half the time we were sleeping. Yeah, it's been a long time we played silly games and got pissed drunked, but it was all good..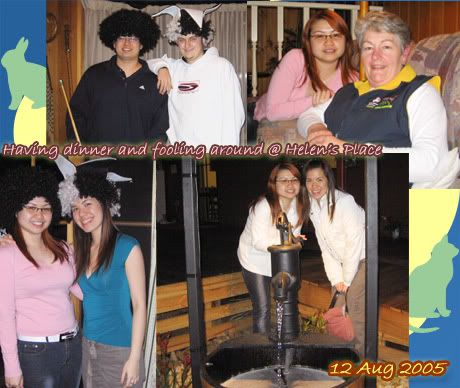 Tracing back to a few days before, we had dinner at Helen's place. Porr Micheal pulled a leg muscle while skiing, and didn't return home till late. Kinda miss being with my "guardians" cause after I got baptised, we hardly ever meet up. They are really nice people and so we arranged a Pot Luck last friday. I asked Helen if we could include some more friends the next time and she said Yess. Gonna get Debbie and Kal they all the next time we go so they can experience dinner with the locals and take a look around the nice place that the Dysons have. It just takes so little to make the folks happy sometimes and it brings a smile to us too. Check out the fooling around we had at the place. Well, that's all for the meantime..