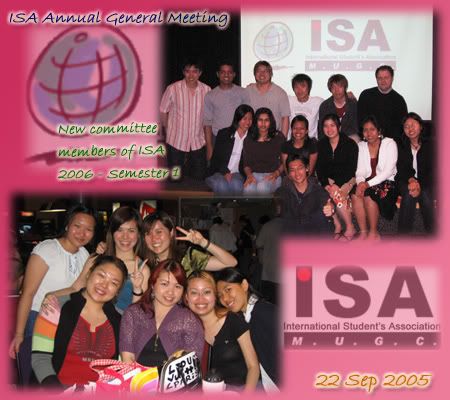 Thought I'd better start updating before everything slips my mind on what's been happenin for the pass week or so. 22 Sep was the ISA AGM that darling was so worried about and I'm glad that he had gotten the members in their respective positions as he had wanted, else he'd be stressing himself. We had heaps to eat like mooncakes, nasi bryani with curry chicken, pizza, samosas etc. The best part for me was of course the mooncakes!. ;) After which Joewiz and I couldn't wait for the event to end so we can set up the Karaoke system and start singing! Man, that girl can sing pretty well too, what a waste she didn't wanna join us during the Monash Open Day performance.
This week was the term break for us. There were happy events and not-so-happy events that happened. Sometime during the week, we all had a "show-down" with a friend and his GF . It didn't necessarily involved all of us, only two of them in which the "fire" had already started a long time ago. I wouldn't say the talk solved anything at all, but at least it made us understand the situation our friend is in. From an outsider's point of view, I guess the GF is a nice girl, just a little too possesive and insecure, and for that I salute his patience towards her.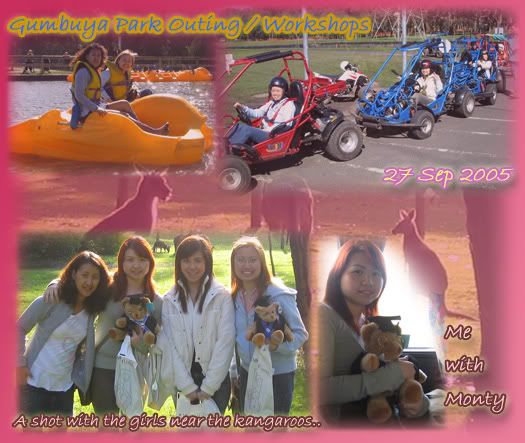 Anyway on 27 Sep, we had the Gumbuya Park trip and session workshops for graduating students. It's really disappointing that MI was kind enough to arrange such outings for us, yet only about 10 to 12 students turned up that day when the trip was catered for 48 people. Shame on you those who would rather stay at home and sleep, because poor Heidi had to call each and everyone of those that didn't turn up to check if they were going. We had a day of fun but also gain more insights with the interview workshops and preparations to find jobs after we graduate. *Joyce, where are the photos?*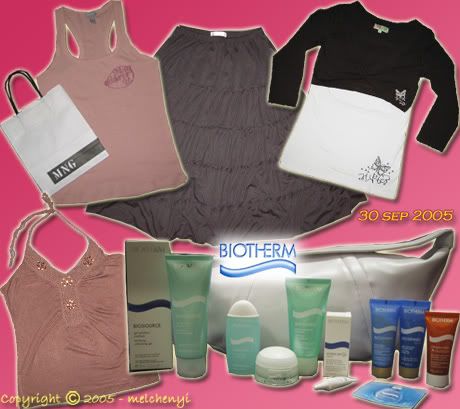 And after a boring week of being stuck in gippy, we finally made a trip to the city for shopping and to savour the taste of Uncle Danny's food again. After lunch, we headed to Chadstone and I couldn't help myself in getting the Biotherm starter kit plus the scrub and they all came in a nice white bag. Later we went to Melbourne Central for more shopping and boy did our legs ache like mad till we had to sit down, have a break and have coffee. The girls got some stuff too; Joyce got a bronzer with the Estee Lauder gift pack ++, Len got a few tops and a skirt as well. Shopping these days is like a privilage we get once awhile and not something I used to take it for granted like in the past.