Yess, I just finished probably my last exam of my life just a couple of hours ago and reckon, ah well, I could spend some time updating my blog since I don't have the mood to continue with my thesis writing or assignment marking yet. And so as promised, just a brief about the updates that happened in the last few weeks:
~ I managed to set up an Ebay's seller's account and sold of most of my unwanted stuff. Not a bad thing to do and earned some shopping money as well. I already have a "business plan" for setting up an Ebay shop soon selling new stuff instead!
~ MUGSU Photography Club competition, won 2nd prize for both the Portrait and Landscape category and got $60 worth of Midvalley vouchers. Not bad having entering a photo competition the first time and I didn't expect the winning shots would be a photo of darling, plus a sunset shot of Great Ocean Road. *Sorry the photos are not here, one of them is at my deviantArt portfolio which I will update in the near future.
~ One of my dear friends, Evon came back Gippy for her graduation. So happy for you girl!
~ First photo update: Dinner at Helen's...
~ Plane trip where Alan, Helen's friend brought us.. A little nauseous but it was all good and we flew almost near Wilson's Prom and Tasmania!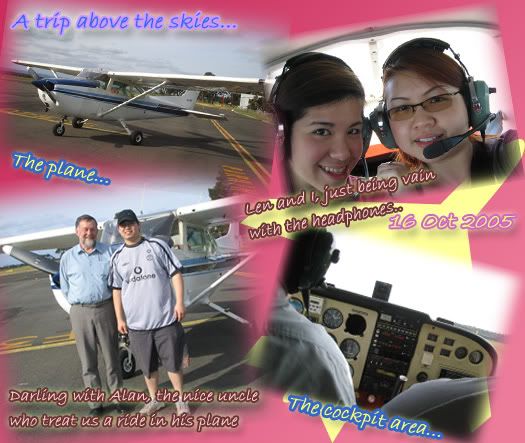 ~ Some Nice Views from inside the plane:
~ Next is Len's birthday. In fact, I guess the plane trip thingy was a gift from Helen. As usual, being the nice people they are... It's really great to know them.. Anyway, this year's birthday was a shorter celebration for her and hope she still liked it though, yeah with the presents she had.. and the "sabo", "I reckon you liked it right Len?" Haha.. Joewiz's and Sheali's cheesecake was really awesome, and they baked it from scratch! Well, Len got her birthday wish, or I guess almost totally, with her BMW "Convertible". Next we had our Mock Gown day which I had mentioned in the earlier post. Was contemplating whether to put up the photos here or not. But guess, just a sneak preview is okay. Haha, we did a copy cat pose, following Zyan and his friends the last Mock Gown day, but guess their's was more successful!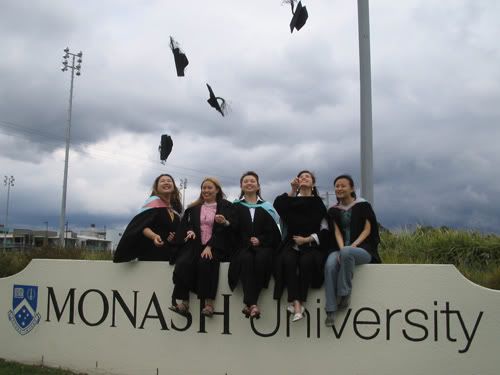 Anyway, I managed to find a house in Clayton to rent for the six of us during the period while waiting for our graduation. Yeah, can't wait to finish our exams and for me my thesis. It's been a long time we had real heaps of fun without worrying about assignment to hand up, must go back study, blah blah blah.. And mum and dad are coming in Dec! Can't wait to see them and hope I can graduate successfully. Thanks to those who have faith in me and who wish me well. **blink, You know who you are!. ** Anyway, I remember there were certain things / people I wanted to bitch about here, but it's been some time, I think I forgot about it already. Oh well, it doesn't matter then... Maybe some things are better left unsaid. Anyway, darling was really sweet to get me flowers today! I was practically crying before my last paper cause I was really stressed about it and the lilies really cheered me up. I reckon he spoils me rotten sometimes. *huggies* to him. ;) ** No wonder his ex GF still cannot get over him! ** He's the bestest in the world (apart from being a lazy and greedy piggy sometimes)..