Here goes, the photos from the Bendigo Trip: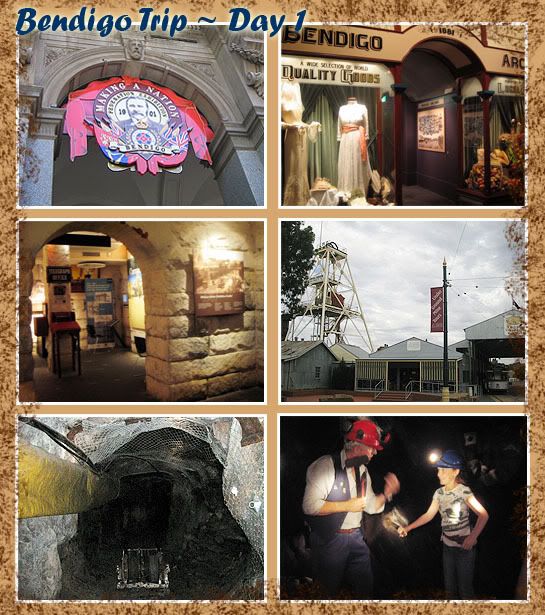 We arrived at Bendigo on Sat 3 Mar around 12.45pm and headed to have some finger food and ice cream as it was a scotching hot day. Then we walked around the city centre, got to the visitor information centre to get more brochures, maps and to buy the Bendigo Visitor Pass. 2nd highlight of the day was the trip to Central Deborah Gold Mine. We opted for the 1hour, 60 metres down below tour instead of the 2hour, 82 metres one. It was still all good and pitch dark below ground level, near the earth's core. And no, if you happen to find any gold, it doesn't belong to you. :( The guide was a jovial funny old fellow who made the tour an interesting one.

Sunday's first highlight was the Sacred Heart Cathedral, we went there for morning mass at 8.30am. It was a lovely sculpted building completed in the 1970s. Then we had brekkie at beechworth bakery because Ying thought that it was related to beechworth honey, but it wasn't and the food though lovely on the outside, didn't taste as good on the inside. Next was the talking trams tour, tramways museum and the Golden Dragon Museum, built by one of the forefathers of the chinese who immigrated to Bendigo during the Gold Mining era.

We continued the trip next to Bendigo pottery where we learned and actually saw how pottery is made. Duhhh?! :P We wanted to had a go and try our hands at the wheel, but we figured it was gonna be a hassle to keep "the thing" we moulded, so we skipped it. Last stop for the day was Confectionary Capers, which was built by a single man using 37 years of hard work. It was a display of mechanical and language displays which makes you think outta the box for english words with its interactive press-button displays.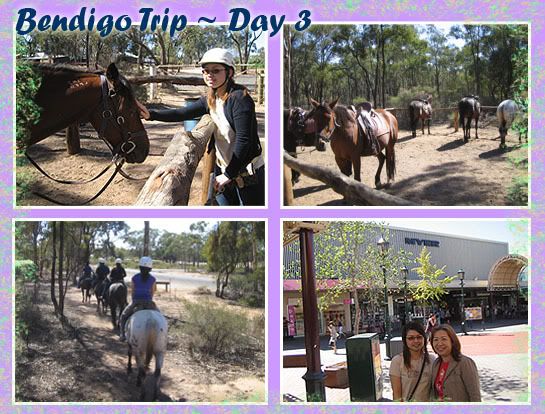 Last day of the trip was horse riding! Yippie! My 2nd time doing it and I'm loving it evermore. I wanted to have a faster gallop but as the others were newbies plus Ying and Dom had slow and sturbbon horses, we had to settled for a slow trotting trail ride. But it was all good and I managed to get dusty(horse's name) to gallop faster along some paths. Finally we left some time for abit of shopping and we just had to take a photo outside the first ever Myer store.

Well that's all for now, I reckon I should start a journal travel site for all my aussie trips! :)