As promised, the updates. But before that I just want to share an insight that I've gained during the Caravan show. My company's 5th wheeler caravan is one of the largest and loveliest in Australia as compared to the local ones because they are imported from the States. So in the days before the show, I never ever felt that way about it because I had gotten so used to seeing it everyday that I didn't think it was pretty anymore. But during the show, everyone who went in and came out had the sort of look of awe in their faces as they said how gorgeous our 5th wheeler was. Only then it dawned well upon me that it was the same in relationships with your partner and friends. When you see someone everyday, you fail to see the "beauty" within them and tend to take them for granted. And only other aquaintances might actually see the true light within your loved ones, the light that was shine upon us, one that we sometimes not appreciate.
Anyway, enough of preaching. All I wanna say is that , "Treasure your family members and loved ones". Life is unpredictable and you won't want to live and regret it. So on a lighter note, here are the photos of my birthday and kal's from the last couple of weeks.
Spot the difference in this group shot and the one in Kals. Most of them turned up for both parties. Well Lyell and Nancy were taking this photo for us, so we shouldn't forget them.
My birthday prezzies. Flowers and Eragon DS game (1st Instalment, so he says) from darling, S.H.E Concert DVD from pal S.K, Jacket and Tee from Mummy dearest, book from Dom, Eileen and Ying. Cakes from Ying, darling and colleage Michelle.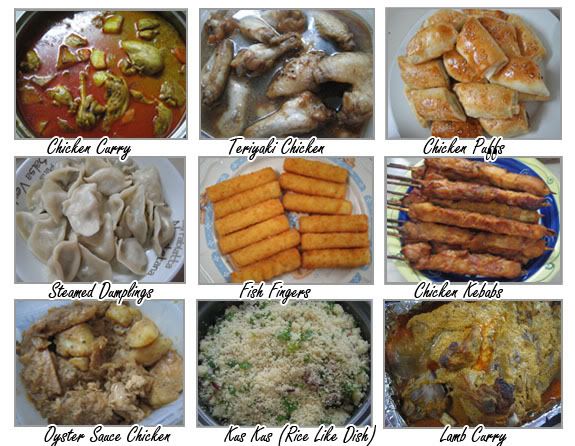 Yummy, yes and more delicious food. It's all chicken I know, for some reason everyone decided to make chicken dishes. Thanks to those who made the yummy food, you know who you are.
Lastly, the people at Kal's birthday. It was absolutely a week after another of eating and eating and socialising. Yup, all the tenants from 3 units in Dalpura, including a few from on-campus.
And also my Thank you speech: THANKS to all who celebrated my birthday for me, sent me SMSs, emails and friendster testis and msgs to wish me. You know who you are, thanks for still remembering me. :) *hugz*