Remember the time when you hug your best friend on the last day of school, promising each other that you'll stay in touch and contact each other no matter what, where and when? And then after a year or two, the calls cease, the emails lessen, the messages have no replies. Well, like my cousin used to say, "Its the place and convenience." Sometimes in life, you wonder, have we really reached a point of understanding that we think we no longer need to remind our best friends once in awhile that they are still in our minds? I don't agree with that. No matter how my life goes, I'd still like to tell my best friends who are faraway from me in another country, that I love you all heaps and that there is never a day that I don't miss you all.
Anyway back to a lighter thing, it was a long time since darling and I spent a holiday together; just the two of us, plus Jasper. A 'no worries', relaxing trip to Geelong where we stayed up at the farms, walk the enchanting waterfront, visited the Wool Museum and eat a whole load of yummy food. And we decided to wait the next time when a group can make it for the waterfront activities like taking the helicopter, seaplane, jet boat and cycling.
We went on good friday and the 1st priority was to go for the Good Friday mass at church. St .Mary's in Geelong had the same traditional architecture as most of the churches here in Oz. The stain glass windows, nicely-carved stone pillars and musical windpipes. A day of obligation is a day of obligation and I still have no idea how so many people can skip mass, go as and when they like it, yet have the nerve to receive communion. So they say, "God helps those who help themselves". And if next time you wanna ask God why your wish wasn't fulfilled, maybe you should ask yourself if you have been doing your duties as a baptised catholic first.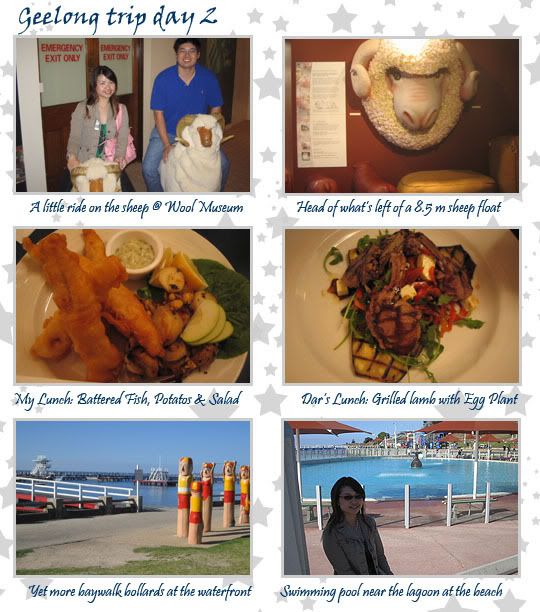 On the second day, we visited the wool museum, had lunch at the Black Sheep cafe, took another walk on the other side of the water front where the beach was, left a little time for shopping at Myer(there was a Sale!), headed back to melbourne for asian groceries shopping and lost some money at Crown playing roulette because darling said he had a "feeling" that day, but apparantly it wasn't the right sort of "feeling". ahahaha.. :)