Just had another tennis lesson last night. After weeks of badminton over tennis, the coach had one thing to say, "You are both using badminton styles! You can't mix both, it's either one or the other." *sigh* The people who have a knack for tennis or are interested are getting less. Ying now prefers badminton to tennis and tubbs got frustrated playing as well. But I'm still a passionate tennis fan and I think I'd quit badminton after this year to fully concentrate on tennis.
Anyway it's nice when you have neighbours all round who are friends. You can just pop over for a chit chat, ask to borrow some garlic, or go disturb people when you're bored. And the guys at Kal's have a nintendo DS as well, so they've asked to go over play wireless games sometime. So I finally pop over to get the photos and so, here goes the Culture Night Photo Outbursts: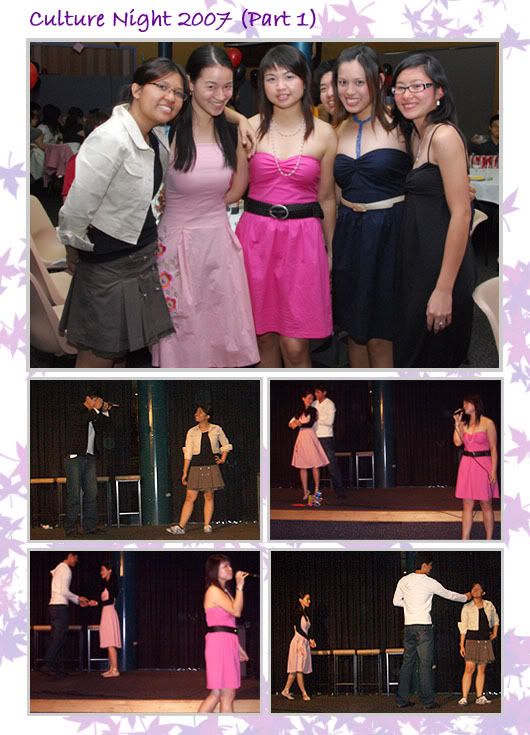 The pre-evening dress worn for my "Rainie Yang - Dream Lover" singing performance and also to match Eileen for our "Atomic Kitten - Eternal Flame" performance. Top photo: Sookie, Sharon, Me, Eileen and Ying. Then some shots of the performance. Honestly, my couple casts looked really compatible, but they are not an item in real life la. *evil grins* Casts: Ah Hao as photographer, Sharon as Ballerina and actor's love, Sookie as photographer's model.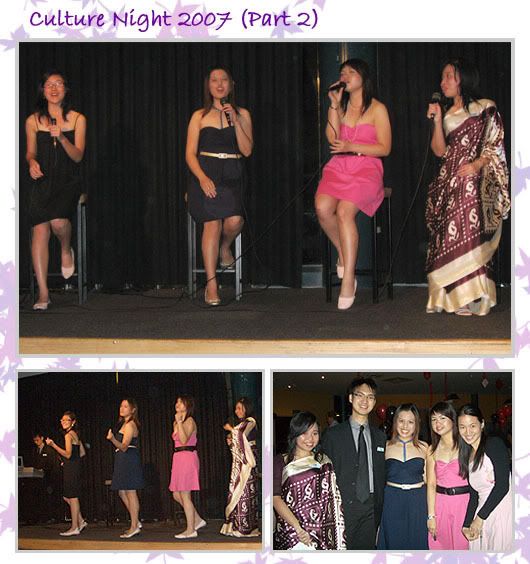 Our "Atomic Kitten - Eternal Flame" performance by Ying, Eileen, me and Ammie. Pardon the fleshy arms la I know. *pouts* Bottom right photo: Ammie in her pretty sari, Alex, Eileen, me and Sharon.
Finally, a change in costume. Top photo: 2 "extras" from the Churchill Soccer Club, me, Eileen, Ah Hao, Kal, Leon and GF Cindy, and Alex. Centre right: Me, Dominic and Eileen. The rest I'm sure need no more introduction. Tubbs was being teased as looking like a kungfu master or something and a chubby one at that too. haha. :D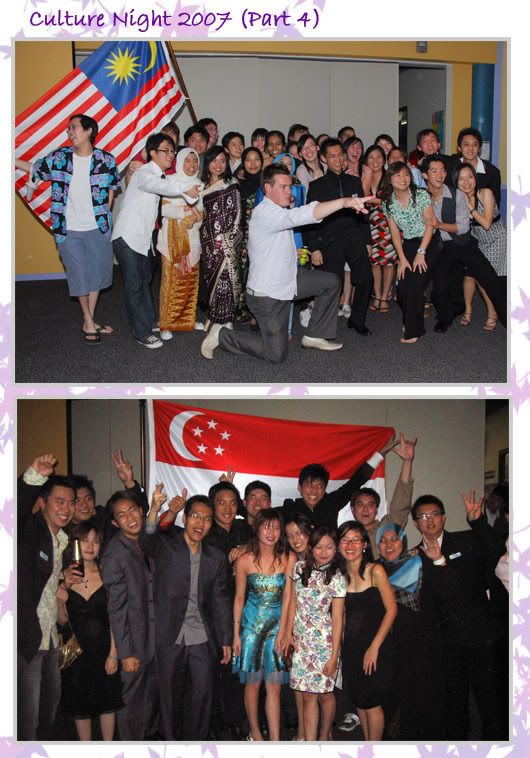 Lastly, it's Singapore VS Malaysia in the flag photo shot. Of course, there's the extra "angmo" in the shot again. We were arguing about how the numbers of Malaysians overpowered the Singaporeans. Well, that's another story which I shan't go into. :p
So that's all for the Culture Night 2007 Ball with the theme "Shanghai Night". If you feel like looking at more shopping, the
Insane Shoppaholic
blog was also updated last couple of days ago. Till next time then..