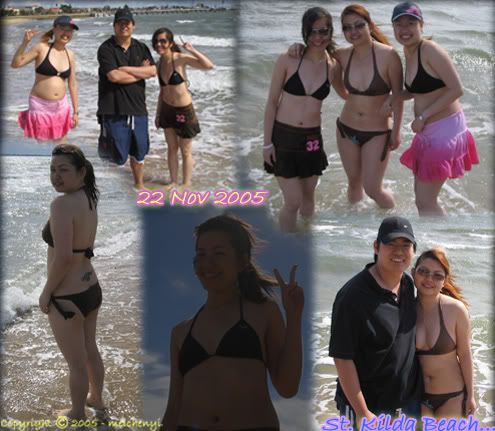 Haven't found the time and mood to update my blog till today. The pass two or three days didn't go by smoothly what with my thesis stuff and assignment markings and maybe today's shopping was a little consolation but until I get an answer from my Honours head and supervisor, it's gonna be a heart-wrenching wait till next week. Anyway, we silly girls decided to make a last minute decision and go sun tanning on Tuesday. Erm, yeah it was not a really good day for lying on the sand or playing around in the water because temperature forecasts for that day was windy and cloudy. But we were still sturbbon arses who wanted to make the trip before darling sent his car for servicing that day. So we're sure there's gonna be a next time when the weather forecast is sunny! :)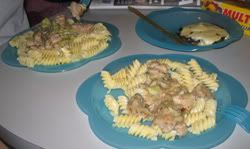 Sweet darling made dinner for me on Wednesday night, it was pasta with chicken and his self-made cheese mushroom. It was really yummy.. Glad he's always there for me, to calm me down for everything, to be the level-headed other half. I really screamed on Tuesday night when I saw the email from my supervisor asking me to edit the thesis and return to Gippsland to reprint it again! I was really firmed and decided I am not making another trip back Gippsland but will edit the thesis through email, and luckily my computer systems officer was really kind to help me with the reprinting and binding. Then, my Honours head came with yet another shocking news, that is my thesis might not be marked in time for my graduation. My mum called him up to have a chat with him and he said his last resort will be to call up the examiners and try and speed up on the marking, but all's not confirmed. And I might have to change my graduation to next year, March in Gippy. Please people, never ever trust that the uni will get things done for you, the different depts. do not liaise with one another at all and everything depends entirely on ourselves! Still praying and keeping my fingers crossed that all will be fine. Lucky again in the meantime, I am still working for the uni and earning my own keep...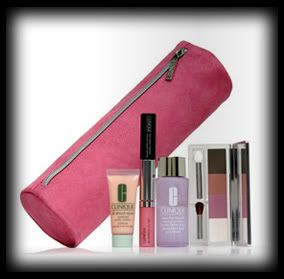 So back to more happy stuff and shopping is definitely one of them. I got this Clinique Gift Set, "All about eyes" for myself a couple of weeks ago cause I was running out of eye cream. Anyway I guess certain brands suit only certain people. In the past I used Clinique Anti-Blemish range and it was really good for me, clearer skin with hardly any pimples. Now I've got these pimples that are here since the last "that time of the month" and I am using Biotherm now. Guess we all could never do without a pimple cream and so I had to get the Clinique Anti-Blemish Spot cream today, AUD$32, expensive but worth it! So we escaped the usual schedule of going to the gym today and went down Melbourne central shopping instead. The interesting part is that SeXy-H is not back yet, so we took a bus from Clayton campus to Glen Waverly and then took the train down. It took us like 1.5 hours just to get to the city compared to the usual 20 minutes by car from the same place.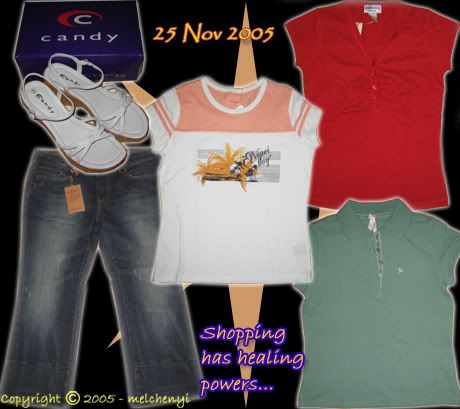 It was then I realised how spoilt we are since darling came into our lives, or much more into my life. But it was all good anyway, consider that a form of exercise since we missed gym today. Spent a total of about AUD$150 odd bucks including the items on the right and some earrings from Diva and a "Breast Cancer Support" bangle, in aid of the support for breast cancer research in which my mum is also an active supporter back home. Stuff bought included Sports Girl and from Myers. Lucky us too, in the evening, the mechanic called and informed darling that we could pick SeXy-H up! We had a pretty interesting tram ride on our way to pick up the car as the driver was a learner and the instructor was a pretty charming old man with deep "all-english" voice. We had fun hearing how he directed the learner tram driver how to move about the tracks when a tram broke down. So now we are back home, Joewiz and her brother is at their auntie's place, but we've got something planned for tonight: Monopoly and drinking session as we got a couple of cartons of Jim Bean and SmirnOff. So people who are bankrupt and can't pay rent will have to drink! Yeah, pretty lame but aw, it's the simple pleasures of life when you are really bored.. Looking forward to BBQ on Sunday!