Okay I must be going crazy after handin up the last assignment to be bloggin at this time. It's 5.15am in the morning and everyone's asleep already. This is me just awhile ago with my hair tied like a crazy gal when I was waitin for my friend to send me a sample solution cause I was goin nuts trying to figure out the last question. I have problem with figures, really hate them!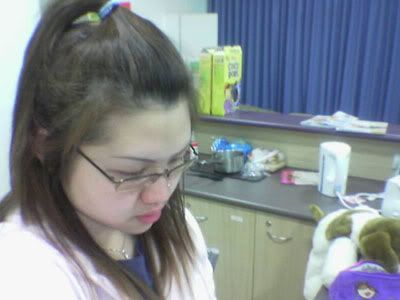 Well, something's just not going right with my love life and I don't really know how to go about solving it. It's funny how you always thought that things have finally come to a conclusion, but then again your heart doesn't always help you or maybe it lies with the people. Anyway my friends and mum asked me to let nature take it's course, but there are many things I'm afraid of if I really do that. Was chatting to Tigger about this matter and she was really supportive. Guess your best friends know you best. Anyway, a new little "member" joined our gang(His name's Murphy) and he took a photo with LJ: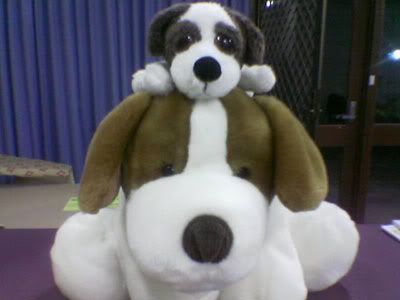 Had a chat with my parents yesterday and it seemed quite impossible "finanicial wise" to let me stay on another year for honours. Nevertheless, would have a talk with my lecturer on Monday just to check out the program for future ref. maybe. Yess, in few hours time, we are going to a trip org. by the SLOs' to Mirboo and Phillip Island. It's to celebrate the pre-Len's bday on Oct 17. Time to go catch few hours of sleep.... (-.-)
Before that, just a little thought:
"TO LOVE SOMEBODY IS TO GIVE FREELY AND NOT TO EXPECT ANYTHING IN RETURN.
TRUE LOVE IS MEANT TO BE THAT WAY..."