Yap I finally stop my procrastination to go book an appointment for a tattoo which I got it done today and dragged Len in as well. Poor Len, lucky she got through the pain. For me, the thick skin didn't help much either and I had to stop 2 or 3 times for a rest before askin the guy to continue. It's a miracle I didn't break Longy's fingers considering how hard I clentched his hand and Len's as well. (So much for lendin a hand, haha ;) Well, see our pics and you'll understand...
(Mine)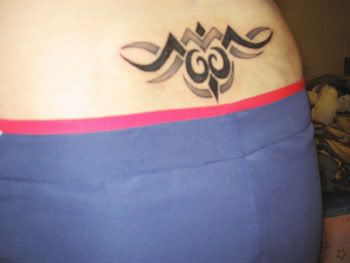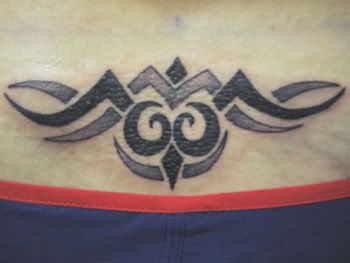 Lens'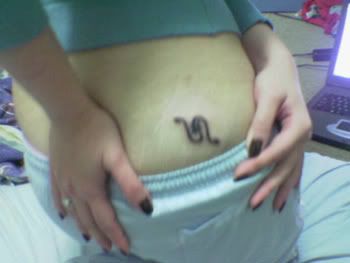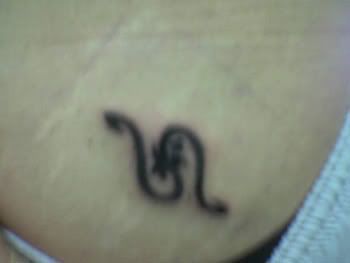 Keke, poor Tigger would have to be my personal nurse for the next few days putting cream on it and cling wrap on it for it to heal faster... ;p
Anyway, this Sunday will be my baptism finally! Mum will be so happy and wished she was here for it. But will take photos and videos to show her when I go home. Had to choose a saint's name for the confirmation and didn't know which one to choose, well Longy chose "Anne" cause he said "Melissa Anne Lim" sounded nice though and so I stuck with it cause I didn't have time to read through the saint's book anyway.
Was havin one of the last few lessons of catechism class and Helen was talkin about me not being to be around Gippsland anymore next year. It kinda cause a little sadness in me cause I do like the nice people, the surroundings, weather and the place around here... Darn I still got another assignment due today which I only did 1 out of 5 questions. Really bad mood and didn't feel like continuing but no choice, guess I go to go continue now... =(