Just got back from melbourne not long and on the way home, it was nice of someone to call dear up and tell him that her friend has left some nasty comments on my blog. -> "By the way, really cute baby boy your friend from Perth has, feel like squeezin his cheeks!"
AMENDED ENTRY -> Picture and comments removed. Hope this doesn't affect you anymore?
Well, the trip back to sg was another tiring one cause Tigger and I just got back from Adelaide yesterday.
10 things you should know about Adelaide:
1) It's just kinda like a square
2) You gotta wait bloody long for da buses @ some stops
3) Every attraction is about 1/4 the size of Melbourne
4) There are less things to spent on as compared to Melbourne
5) The toilets are bloody hard to find
6) The bus drivers give you concession fares w/o even seein ur card
7) The services provided by their motels/inns are really good
8) The food and lodgin is pretty much cheaper than Melbourne
9) There's free city shuttle round the area
10) Don't expect too much about what you gonna see there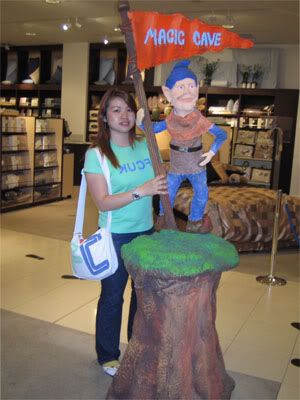 Love drivin in Melbourne and esp. the sweet times where we always squabble on the right or wrong routes to take. Nice car huhh... Wish it was mine.. haha...
Well, overall it was still not too bad a place to visit cause I think it would be better if we had time to visit the other towns there as well and Kangaroo Island. Damn tired now and wanna go have a nice sleep. Anyway, "Thank you pals for your reactions to the nasty person, God bless you guys. Don't worry God will have a way of punishing people for bad-mouthing." Loved the catholic church Tigger and I went for mass as well, they even have masses in italian!