Sure feels good not to see any sickenin stuff again but sure miss my pals leavin their little note and sweet nothins -> "Right Len?". Don't worry babes and hunks, I'll enable the tagboard and comments once those childish little gals get over something and get outta my life. Drop me an SMS or something okieee... And hope to see ya people soon!
Mummy dearest went for her Dancing trip with her friends this morning and so I'm all alone since daddy-o's out as well. Might seem funny I never mention my parents much, but as you realise you grow older, you'll realise you can't be jumpin on their lap or stuff too much anymore. But I still love them lots coz they are still the coolest parents anybody could have. And ya I still hug and kiss mum every night when I'm home. So "munja" yah I know.. haha..
So I got sick of my hair coz it was gettin thick and all that, so made a trip to the hairdressers'...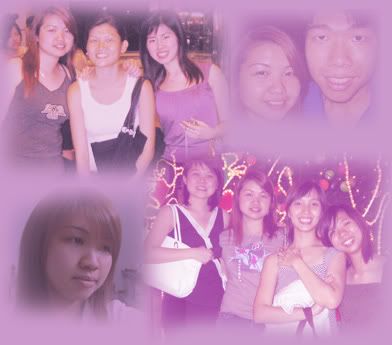 Some shots of my secondary school and poly friends I met up last week. Took a drive to the shopping centre my gal friend was workin in. She used to be an ex-colleage of mine in CTC, "darn I forgot to bring my digicam to catch a shot with her". Anyway, we were reminiscing the good old times when we were workin in CTC and how we used to just decide to go ktv or clubbin at the very last min. Haha, and what short temper I have like I would take the control out as if I'm gonna hit somebody when I wanna complain bout something and boy they just start laughin. She was real gungho too when I asked her if she had been to NY Club lately and called her BF to round up some people to go tonight. But I told her no, make it another day maybe.. Well, one more thing is that I like driving alone at times, cause it gives you times to ponder on alot of things and it helps de-stressing-> don't worry I still keep my eyes on the road...