Replies to my TAG BOARD cause Im gonna disable it for the time being.
TO
:
ur a 1*beep*2->
Darn, I thought I was criticised for havin an unflatterin body and wardrobe, didn't know I still could "snatch" someone elses BF away?!

Burp! *Beep beep*/Burp->
Stop your bloody accusation of the third party thing. If your friend couldn't keep her BF's heart, it's none of my business. And btw, U can criticise but DO NOT FUCKING DISCRIMINATE! Yeah so what if we get da guys?, doesn't this fuckin tell ya sometin about how unlovable u s'porean b*tc*h*s are? I'm glad my s'porean girlfriends are special and nice, that's why those are called my friends!

To Ms Cherelle:
Yes I would have the courtesy to mention your name if ya want me to. Right from the start I wanted to keep my promise to stop any mention or pictures about "us", blame your good friends if ya want to instead of me. If his choice was you, I would have peacefully give him back, and even if there wasn't me, there would be another girl as well, just so happen I was the one I don't know if I should say had the good luck or the bad luck. I could cooly tell ya to stay away from my blog if ya can't stand seeing some things, but for everyone's sake, I'm just gonna keep my promise about NOT mentionin anytin anymore, so pls tell your childish friends/cousins to back off.

___________________________________________________________________
Being sick again is bad enough and with the all the problems I'm vexed about now, I still have to cope with an emotional strain of dealing with some little childish girls! Anyway, glad I met up with my guy pal today and seeing how unhappy I was, it was really sweet of him to get me a postcard secretly and wrote me something sweet.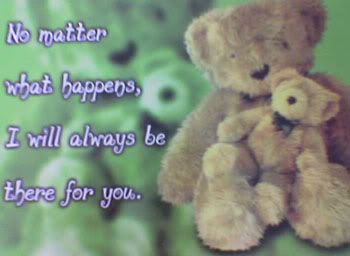 I always get myself something to cheer myself up whenever I'm unhappy and thus for this cute little doggie I got from Mini Toons. You'll be surprised how many of this little soffies I have in my room: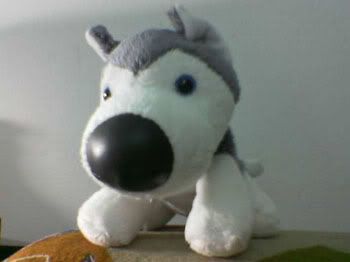 It was a traumatizing experience with my ex BF's behaviour and attitude in the past and I thought all the unhappiness was gonna end. Trust me, my life isn't that perfect as it seems to be sometimes and I already have my fair share of things to worry about. I just hope everything comes to a conclusion soon, else Im really gonna break down as well...