Been a good girl and stayed home since christmas eve and trying to just spend time with my parents especially mummy-o cause I know when the work starts, I'm gonna be very much away from JB most of the time and most probably won't be able to keep them company alot as well, next year. Yeah hate to admit but I was bored shitless at home and all I did was sleep, watch abit of telly or play games most of the time. Friends have been callin me and askin if I was still back in JB and when was I going back SG. Well soon soon...
Just a little family shot from our Xmas Eve Dinner at New York Hotel.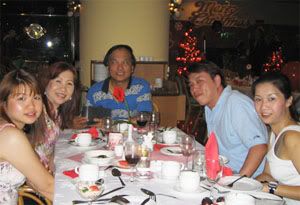 Darn the place brought back much memories as well cause that was where New York Club Disco was as well and seeing the place made me think back to the past times I've been there with my ex (who's still in Melbourne now) and friends plus the incidents & stuff which I should not go into further detail. I would only say it was a chaotic one which I don't wanna be reminded if possible. Anyway think mum was pretty happy I could go for mass with her durin Xmas plus the usual sundays but I hope that the work schedule would be flexible enough for me to continue going to church with her though.
Kinda got a shock when I checked my net tracker last week and boy you'd be surprise to see the different kinds of people from all over who drop by my blog. Well at first I didn't quite believe but then the tracker doesn't tell lies -> I guess. Unknown people from unknown website as well-> I really don't know how they got here. Guess it's better to be a little more discrete in future -> I'll try!