I hate this something about me i.e. I could be happy one day and the next day I could be moody and gloomy. Maybe its the people, surroundings and the place or I just woke up on the wrong side of bed, there are just too many maybes' but it wasn't like this when in Melbourne. Gettin a palm would be another good idea coz there are just lots of things going about in my mind every minute every sec and maybe I should just write it down there and then. People tend to deceive themselves sometimes that they don't care about this and that, the truth is , if you really don't care about something or someone, you won't be even bothered to mention it at all.
Tigger's finally back from Melbourne and you should see a chirpy and bubbly her ever since she got back. Met her and Evon for dinner at her long awaited Genki Sushi and that was the 4th or 5th time I had Jap food durin the last week so. But it's all good anyway coz jap food is supposed to be healthy and Im growin to love Salmon Sashimi more. ;p Well, below's a snapshot of us with the camara man excluded of cause...
Walking around after eating is one principle Tigger alwayz has thus we shop around for abit and later Evon brought us to this really romantic cafe on the 38th floor of the Meritius Mandarin Hotel for coffee or should I say liquor. Night view from up there: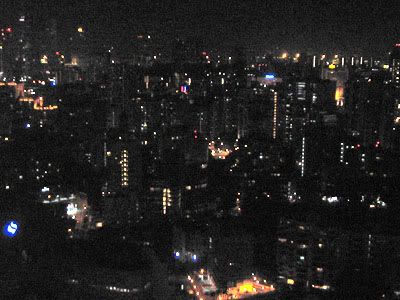 We had the usual chatting and gossip and talkin about "those were the days" moments in gippsland. Tigger mentioned I got my "old self" back on my blog, but I reckon not. Cause if I did like in the past, the whole world will know that whoever I hate would have his/her reputation smeared after they appear my blog ->
Yes I was much more nastier and direct before and if I had something against someone, the next day, almost the whole campus would know and maybe some across the world as well?
Getting baptised and closer to god should mean something and though my mum said I needn't go for confession with her last night cause I wasn't taught so yet, I still went ahead with it and blurrily told Father I didn't really know how to go through it. I confessed to him for being envious of people sometimes and for retaliating when I shouldn't. But it's human nature sometimes and you just can't help it. I will try though... Findin a temp job is still a chore...